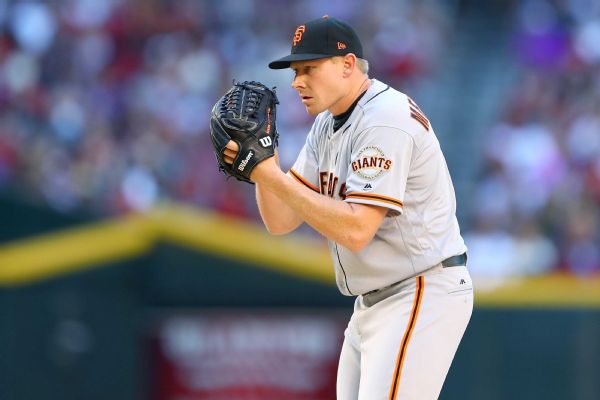 Written by Brian Murphy
11 May 2017
San Francisco Giants
Giants fans are this close to organizing a human sacrifice in hopes of changing their ninth-inning luck. After blowing 30 saves in 2016, Mark Melancon was brought in to cure all ails. And really, he has been pretty good this year. But good fortune and closers just don't mix for this franchise right now. Melancon was placed on the disabled list Tuesday with a reportedly mild forearm strain. On Wednesday, the first save chance for the Melancon-less Giants went to Derek Law, who entered the game with a 2.40 ERA. However, his closing debut didn't go smoothly. He did notch the save -- I guess that's what really matters -- but Law gave up three hits and a run. Based on the result, I think Law will get the next opportunity to shut the door, but don't be surprised if fireballer Hunter Strickland gets a shot as well. He has more of the prototypical closer repertoire whereas Law is more of a breaking ball pitcher. There is hope that Melancon will miss just the minimum 10 days.
Washington Nationals
The bullpen in the greatest state of disarray right now resides in our nation's capital. After Blake Treinen lost his closing gig in April, Shawn Kelley and Koda Glover were set to share the job. But that didn't last long as Glover was DL'ed on April 26. Then Kelley was put on the shelf May 5. That night, Matt Albers recorded a save without issue. Then, two days later, he gave up a game-deciding three-run homer. So manager Dusty Baker tried out Enny Romero on Tuesday, and he promptly let a two-run lead slip away. And Treinen has permitted 10 runs in his last 10.1 innings The (relatively) good news? Glover began a rehab assignment Wednesday. Maybe he'll return to provide some stability here. If I had to choose anyone here, it would be Glover followed by Kelley. All these other replacements are imposters.
Detroit Tigers
Francisco Rodriguez has had a great career, but for 2017, the Tigers couldn't put up with him as their closer any longer. He was removed from the role Tuesday after allowing five runs over his previous two outings and seeing his ERA balloon to 8.49. Justin Wilson has taken over, and he has certainly deserved a promotion. Entering Wednesday, he owned a 1.23/1.58/2.06 ERA/FIP/xFIP line with 14.1 strikeouts per nine innings. He is a six-year lefty vet in the midst of a career season and because he has never been this good, there is some worry he will regress soon. But of anyone I've mentioned in this article thus far, Wilson is the priority add.
Baltimore Orioles
Brad Brach has been the Orioles' closer for basically the past three weeks and has done a solid job -- his blown save on Wednesday notwithstanding. He has been filling in for the injured Zach Britton, and we found out his week that Brach's initially short stay in the role is primed to be a long-term residency. Britton won't throw for the next month due to a forearm strain and it looks like he won't be on the mound until at least July. Brach shouldn't be available in any mixed leagues at his point, especially given this news. One caveat: If Brach blows another couple of saves, he is probably at risk of losing his job to Darren O'Day. 
Philadelphia Phillies
Does it matter who is closing in Philly? All the options are unsavory. Jeanmar Gomez was deposed less than two weeks into the season. Hector Neris has picked up three saves since then, but he has also compiled an ERA over 4.00 and has blown another save chance. Neris would probably be taken out of the ninth inning if the Phillies knew they were actually upgrading at closer. But Joaquin Benoit was credited with a blown save last week and got hit around for five runs in one-third of an inning Wednesday. Plus, Gomez is currently on the DL. Neris should be on thin ice, but considering who's around him, he looks fairly safe at the moment.