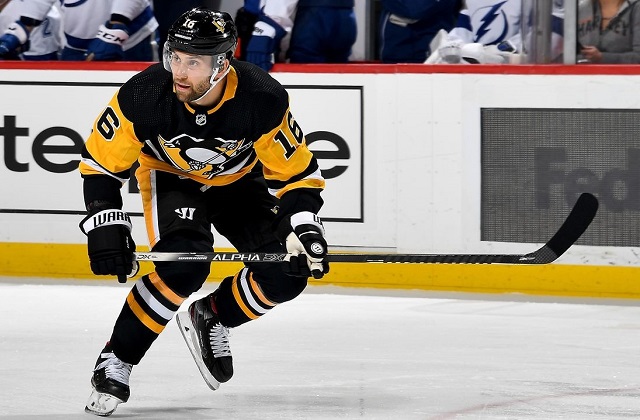 Written by Todd Lewys
21 February 2020
Don't look now, but the NHL's trade deadline is just days away.
And with several teams in the hunt for the Stanley Cup - all trades must be completed by 3 p.m. on Monday, February 24 - it could be one of the most active and intriguing deadline days in recent memory.
That activity could be driven by two factors: that the quest for Lord Stanley's Mug is more wide-open than it has been in years, and injuries.
Not surprisingly, several preemptive strikes have taken place.
The first saw the L.A. Kings trade goalie Jack Campbell and G Kyle Clifford to the Toronto Maple Leafs for F Trevor Moore and two third round draft picks on February 5.
After that, the injury-riddled Pittsburgh Penguins acquired winger Jason Zucker from the Minnesota Wild on February 10 for F Alex Galchenyuk, defense prospect Calen Addison and a conditional 2020 first round draft pick.
Other significant deals saw F Blake Coleman - a top-six forward in New Jersey - head to Tampa Bay for a 2020 first round pick and prospect Nolan Foote on February 16; L.A.'s Tyler Toffoli go to Vancouver in exchange for forwards Tim Schaller, Tyler Madden and two draft picks on February 17; and hard rock defenseman Brenden Dillon dealt to Washington for second and third-round draft picks on February 18.
Coleman adds depth to an already talented group of forwards in Tampa, while Toffoli was acquired to replace Canucks' sniper Brock Boeser, who's out eight weeks with a rib cartilage injury.
The Caps traded for Dillon to further bolster their defense corps. Las Vegas made a similiar move, bringing in D Alec Martinez from the Kings to add experience and depth to their backline on February 19.
To date, moving early has paid off for two teams.
Zucker has meshed quickly with Sidney Crosby in Pittsburgh, deftly filling the gap created by a season-ending injury to high-scoring winger Jake Guentzel. Meanwhile, Campbell filled in admirably for injured starter Frederik Andersen. He's also stabilized the Leafs' previously suspect back-up goaltender position.
These deals may well just be a preview of what could happen on Monday.
For example, Montreal could trade re-invigorated winger Ilya Kovalchuk to a contender, where he could catch fire with a proven set-up man and provide the spark that could lead to a deep playoff run.
Or, a defenseman such as Minnesota's Matt Dumba or Montreal's Jeff Petry could prove to be the piece that takes a contending team like Tampa, Pittsburgh or Carolina over the top (remember, Carolina lost D Dougie Hamilton for the season, while Pittsburgh needs help on their blueline after a facial injury to D John Marino took him out of the line-up for three to six weeks).
More than anything, the right trade (or trades) could serve as a launching pad for a team down the stretch and into the playoffs.
So, keep a keen eye on what transpires at the trade deadline on Monday. Many players will benefit from a change of address. Boosted by the change of scenery, some will score more, defend better or keep pucks out of the net with greater regularity.
Fill the gaps in your fantasy line-up with the right players, and you could be a winner, too.