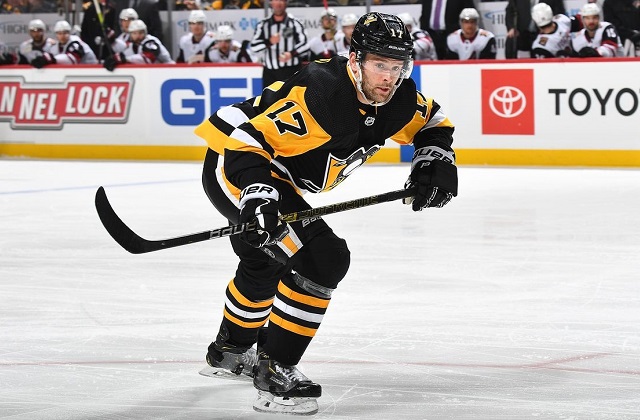 Written by Todd Lewys
02 February 2020
It's something that happens without fail with fantasy draft rosters: players get injured, or simply don't perform up to expectations. When that happens, you have to scramble to find someone who can capably plug that hole in your line-up.
Here are a few players who could serve as more-than-capable replacements.
Bryan Rust, RW, Pittsburgh Penguins
Unsatisfied with his 2018-19 campaign, the speedy winger trained extra hard to address shortcomings in his game in the off-season.
All that hard work paid off. In 36 games, the 5' 11, 192-pound native of Pontiac, Michigan has recorded 43 points with a plus-15 rating.
Rust has already surpassed his career high in points (38) and goals (18) and is on course for a 60-point-plus season at his current pace.
Ryan Strome, C, New York Rangers
When Strome put 50 points on the board in his sophomore season with the New York Islanders in 2014-15, it looked like he had nowhere to go but up.
Instead, the 6' 1", 193-pound Mississauga Ontario native regressed and was eventually traded to the Edmonton Oilers, where his inconsistent play continued.
Last year - after being traded to the Rangers - he showed signs of life with a decent 33-point season.
This year - his confidence finally where it needs to be at age 26 - he has 43 points in 48 games and is poised to set a new career high in goals, assists and points. A good pick if he's available.
Jonathan Toews, C, Chicago Black Hawks
After a fine 2018-19 season, Captain Serious struggled out of the gate early this season.
However, the 6' 2", 201-pound Toews, who hails from Winnipeg, Manitoba, has been on fire over the past 20 games or so.
He's once again playing like one of the best power forwards in the game, excelling at both ends of the ice. With plenty of ice time and confidence, he could hit the 70-point plateau.
Tanner Pearson, LW, Vancouver Canucks
While talented young teammates such as Elias Pettersson, Quinn Hughes and Brock Boeser grab headlines, the 27-year-old Pearson quietly goes about his business.
In 51 games, the 6' 1" Kitchener, Ontario native has amassed 39 points and established himself as one of the team's top-six forwards.
With 31 games left to play, he's a sure bet to blow past his career high of 44 points, set with the L.A. Kings in 2016-17. Expect is steady production to continue with high confidence and generous ice time from coach Travis Green.
Connor Brown, RW, Ottawa Senators
With 33 points in 51 games, the former Maple Leaf has already breezed past the 29 points he recorded in 82 games with Toronto last year.
Getting plenty of ice time and brimming with confidence, the gritty right winger is a cinch to set a career high in points (his career high was 36 with the Leafs in 2016-17.
Look for the 6', 186-pound Toronto native to notch somewhere in the 45-point range once all the ice chips stop flying at season's end.
Anthony Cirelli, C, Tampa Bay
Cirelli is a deceptive player - bigger (6', 193 pounds), faster and more skilled than people think he is. And he also plays in the shadow of a talented pool of Lightning forwards, Kucherov, Stamkos and Point among them.
All he's done this season is rack up 34 points in 49 games - only five off the career high of 39 he set last year.
At his current pace, he will total 50 points or better - and be a great addition to any fantasy roster to add some much-needed scoring punch.
Tony DeAngelo, D, New York Rangers
Simply put, the 5', 11", 180-pound native of Sewell, New Jersey has exceeded expectations of Rangers' management.
At the beginning of the season, it was expected that the Rangers' highest scoring right-shot defenseman would be newly signed Jacob Trouba.
Well, Trouba has 23 points and is minus 8; DeAngelo has put up 39 points and a plus-7 rating in 49 games. DeAngelo already has his career-high 30 points (set last year) in the rear view mirror, and is looking good to score better than 50 points, provided he stays healthy.
Honorable Mentions: Minnesota Wild D Ryan Suter who's having another solid season with 35 points to date; and Florida Panthers D Keith Yandle, who, while he may not reach the 62 points he recorded last year, should be good for at least 50 to 55 points after scoring 39 in 49 games to date.