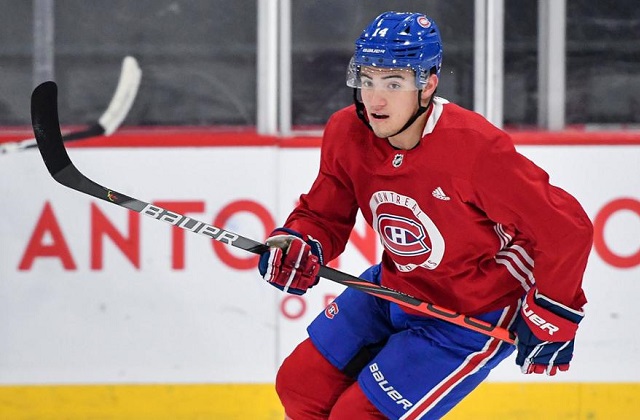 Written by Todd Lewys
14 January 2020
It's a given that every team has its stars - the players that drive the team on the ice, and scoresheet.
That said, every team has its fair share of players who quietly produce in second or third-line roles. Here are seven players who would be good additions to your fantasy roster should they be available when you need a quick infusion of point production.

Nick Suzuki, C, Montreal Canadiens
The 5' 11", 201 pound rookie has done everything the Canadiens have asked him to do so far this season.
Not only has he been dependable defensively, but he's also averaged roughly one point every two games - impressive production for a 20-year-old rookie.
After 47 games, Suzuki's put up 27 points. Given the ice time he's getting - a regular shift plus time on the powerplay - the solid, two-way performer is poised to record a 40-plus point season.


Conor Garland, RW, Arizona Coyotes
At 23, the native of Scituate, MA, has finally found his game at the NHL level.
He's put up 23 points in 47 games utilizing his speed and quickness to full advantage. Best of all, he just keeps getting better, something his coach, Rick Tocchet, has recognized.
Expect Garland's point totals to grow as his ice time and confidence increases; he should be good for 35 to 40 points by season's end.


Nikolaj Ehlers, LW, Winnipeg Jets
Jets' management put the speedy winger on notice after he once again failed to score in the playoffs last year; in 21 career playoff tilts, Ehlers hasn't scored a goal or been a factor in games.
To his credit, he took the criticism to heart. He put on 10 pounds of muscle, and came to camp determined to show he could play a more robust style in 2019-20.
Thus far, the 6' , 180 pound Denmark native has amassed 37 points in 46 games. On his current pace, Ehlers is projected to surpass the 60-point plateau. He's a great pick-up if available.


Tyler Bertuzzi, LW, Detroit Red Wings
Although the Red Wings have struggled all season - they occupy the very bottom of the NHL team standings - Bertuzzi has not.
In 46 games, the rugged winger has recorded 34 points - better than a point every two games.
Given the fact that his ice time will only increase during the second half of the season, there's every reason to expect his consistent point production to continue.
Barring injury, the 6' 1", 199 native of Sudbury, Ontario should hit 50 points, maybe more.

Ryan Dzingel, C, Carolina Hurricanes
After a slow start, the 27-year-old Dzingel - who joined the 'Canes after signing as a free agent - has found his game.
With 26 points in 46 games - and his play trending upward - the speedy centreman should only get better over the final 36 games.
Chances are better than good that the Wheaton, Illinois native will reach or surpass the 40-point mark by the time the regular season ends.


Sam Reinhart, C, Buffalo Sabres
Long considered a gifted player who hadn't yet realized his full potential, the 6' 1", 194 pound Reinhart is finally coming into his own at age 24.
Problem is, he's playing in the shadow of another talented centre, Jack Eichel.
Whereas the uber-talented Eichel has put up 59 points this season, Reinhart has quietly racked up 36 points in 46 games - an impressive total for a second line centre.
Look for the Vancouver native to finish with somewhere in the neighbourhood of 55 points at the end of the 82-game NHL regular season.


Mike Hoffman, LW, Florida Panthers
While it isn't surprising that his two elite-level teammates - Jonathan Huberdeau and Alexander Barkov - are leading the Panthers with 61 and 49 points respectively, the 30-year-old Hoffman hasn't been bad, either.
With 35 points in 45 contests, the 6', 182 pound Kitchener, Ontario native is fourth in scoring on an offensively talented Panthers squad.
The underrated Hoffman - given his regular shift and ample time on the powerplay - should finish the year with at least 25 goals and better than 50 points.
Fact is, there are lots of quietly productive players that populate NHL rosters. The trick is to find them - and then plug them in - when you need a quick infusion of point production to prevail in your daily and weekly match-ups!