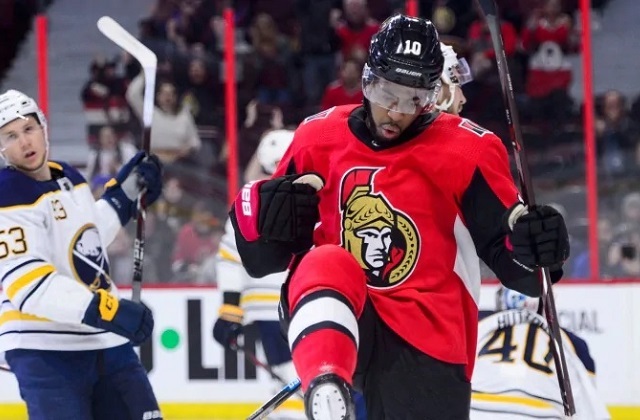 Written by Todd Lewys
01 January 2020
Every NHL season there are a number of players that quietly perform at a high level.
The 2019-2020 NHL season is no exception. Here are seven players - bear in mind there are plenty more like them out there if you take the time to look for them - who have quietly been putting up solid scoring numbers during the first half of the NHL season.

Anthony Duclair, Ottawa Senators
After bouncing around the NHL for several years, the 24-year-old Duclair appears to have hit his stride in Ottawa.
In 40 games, he's already put up 31 points. With another 42 games to go, he looks to be a sure-fire bet to surpass his career high of 44 points set with Arizona in 2015-2016.
The 5' 11", 198 pound winger - who's going to the NHL All-Star game as a reward for his fine play - is poised to record 50 points or better.

Zach Hyman, Toronto Maple Leafs
Hyman has been on fire since his return from a knee injury 21 games ago.
Once one of the Leafs' most unsung players, that's no longer the case. With 15 points in those 21 games, he's reminded everyone that he's a key contributor to any success Toronto enjoys with his gritty, hard-nosed style.
The 6' 1" 211 pound Toronto native should record 30-plus points by season end based on his consistent play.

Jakub Vrana, Washington Capitals
Some pundits wondered if Vrana's 47-point output in 2018-2019 was an anomaly.
The answer would be a resounding no based on his play so far this season. In 40 games, the 6' 1", 195 pound native of Prague, Czechoslovakia, has recorded 31 points.
At his current pace, the blossoming winger is looking good to blow past his career high with 50-plus, perhaps 60 points.

Mika Zibanejad, New York Rangers
Throughout his career, the 6' 2" Zibanjead has flown under the radar despite some consistently fine play.
That's still the case with the Rangers, as his 30 points in just 25 games has gone largely unnoticed due to the scoring prowess of his teammate, winger extraordinaire Artemi Panarin.
Expect the skilled Swede to amass better than 50 points by the time the NHL season comes to a close.

Alex Killorn, Tampa Bay Lightning
Over the past six seasons, the 30-year-old quietly put up between 35 and 40 points per season on a talented Lightning squad.
As good as Killorn has been over that time, he's been even better this season. Through 35 games, the hard-working winger has recorded 31 points.
Look for the Halifax, Nova Scotia native to surpass his career high of 47 points (2017-2018) in short order, with him settling in around the 55 point by season's end.

Shea Weber, Montreal Canadiens
Prior to the 2019-2020 season, many experts were wondering if the 34-year-old Weber was in decline.
Little wonder. After a couple of injury-plagued seasons, it looked as if his best years were behind him.
Well, the 6' 4", 230 pound defender has shown he's still got lots of gas in his tank. Now fully healthy, he's (to date) the fifth-highest scoring defenseman in the league with 31 points in 39 games.
With plenty of ice time and time on the power play, Weber could well reach the 50-point plateau for the fourth time in his illustrious career.

Zack Kassian, Edmonton Oilers
For nine years, onlookers kept wondering when the big power forward would mature into the dominant force everyone thought he could be.
At the ripe age of 28, the 6' 3", 211 pound winger seems - finally - to have matured.
In 38 games, he's recorded 26 points, and is on pace to blow past his career high of 29 points, was set way back in 2013-2014 with Vancouver.
These are just a few of the productive outliers lurking on NHL rosters. Make the effort to ferret them out, and your fantasy roster's point production is sure to increase!