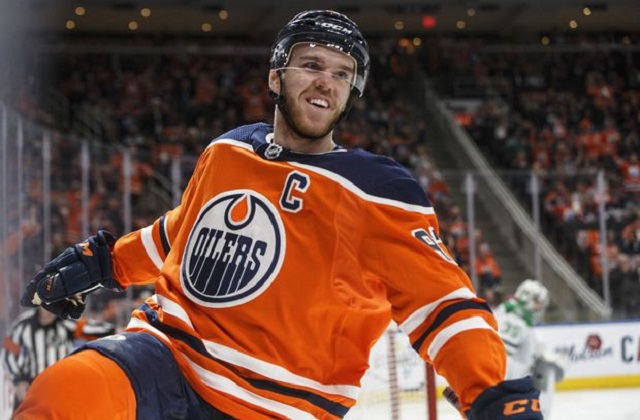 Written by Todd Lewys
21 October 2019
No matter what the sport, it never pays to get carried away with the early-season success of a team or an individual player.
Why?
Simple: you're dealing with a limited sample size.
In the case of the NHL - just 10 games into the 2019-20 season - there are both teams and players that are on fire. Question is, will they be on fire at the 30, 50 and 70-game mark?
This is a key question to ask, as a team's success - or lack thereof - often determines how productive a player will be. Let's take a quick peek at the teams that have gotten off to hot, lukewarm and downright cold starts in the first few weeks of the NHL season.
Teams that have gotten off to a hot start include the Buffalo Sabres, Colorado Avalanche, Boston Bruins, Edmonton Oilers, Pittsburgh Penguins and Anaheim Ducks.
It comes as no surprise that the Avalanche, Bruins and Penguins have gotten off to strong starts.
The Avs are 7-0-1 through eight games, the Bruins 5-1-2 and the Penguins are 6-3-0. Colorado has picked up where they left off in the 2018-19 Stanley Cup playoffs; the Bruins were a Stanley Cup finalist, so no surprise there; and the Penguins are recent two-time Stanley Cup champions led by the Sidney Crosby, Kris Letang and G Matt Murray.
Like Colorado, the Carolina Hurricanes have also carried their playoff success forward.
The 'Canes - with their talented young line-up - are 6-3-0 early on. Last year's stalwart's - Sebastien Aho and Teuvo Teravainen - have been scoring consistently, with their scoring augmented nicely by F Andrei Svechnikov and D Dougie Hamilton, who appears to be finally coming into his own.
However, the other three teams - Edmonton, Anaheim and Buffalo - are surprises. The Sabres faltered badly after a good start a year ago, while Edmonton and Anaheim were just awful during the course of the 2018-19 NHL season.
A 10-game sample size simply isn't enough to judge whether these three teams will stay at or near the top of the overall standings during the course of an 82-game season. Both the Sabres and Oilers do have some scoring talent, Buffalo with Jack Eichel, Jeff Skinner, Rasmus Dahlin and Sam Reinhart.
Meanwhile, Edmonton boasts two of the League's top forwards in Connor McDavid, the odds-on pick to win another scoring title, and all-world winger Leon Draisaitl, who hit the 50-goal mark last season. Centre Ryan Nugent-Hopkins should meet or exceed last year's point total (69) while D Oscar Klefbom is healthy and primed to contribute points from the back end.
Anaheim has also surprised early with excellent goaltending from John Gibson and Ryan Miller and timely goal scoring from a largely no-name line-up.
Problem is, both Edmonton and Buffalo lack scoring depth behind their stars, and their goaltending is suspect. The Ducks just don't look to have the scoring depth to be competitive over an 82-game stretch.
At the same time, other teams that were picked to get off to strong starts - the Dallas Stars, Tampa Bay Lightning, New Jersey Devils and New York Rangers - have struggled out of the gate. The Stars have struggled to score despite having Jamie Benn, Tyler Seguin, Alex Radulov and newly-acquired Corey Perry in their line-up along with defensive studs Jon Klingberg and Miro Heiskanen.
Tampa - with luminaries such as Kucherov, Stamkos, Point, Hedman and Vasilevskiy on their roster - are treading water at just over .500, while the Devils and Rangers, despite an infusion of talent (C Jack Hughes, D P.K. Subban in New Jersey, W Artemi Panarin, W Kappo Kakko, D Jacob Trouba in New York) have ranked as early disappointments.
The upshot here?
Teams such as Tampa Bay will likely right themselves and be at or near at the top of the standings by season's end, as will Pittsburgh, Toronto, Carolina, Dallas, Nashville, Boston - and the slow-starting Stanley Cup champs, the St. Louis Blues.
It's also likely that Buffalo and Edmonton will come down to earth and be life and death to make the playoffs, with scoring depth falling off drastically after McDavid, Draisaitl, Nugent-Hopkins and Klefbom.
Two factors will determine how productive individual players are: overall team success, and how much ice time they get, even on weaker teams. Those who play on strong teams and get lots ice time will figure to be very productive; players on lesser teams such as Edmonton and Buffalo who get the lion's share of ice time (McDavid, Draisaitl, Nugent-Hopkins, Eichel, Skinner, Dahlin) will also put up impressive scoring totals.
But players on teams such as Boston, Tampa, Colorado and Pittsburgh - those are just a few examples - have the best of both worlds due to their talent level, scoring history and the depth that surrounds them. Look for those three things first, and ice time second. If you do, you'll be able to achieve good scoring depth with your Fantasy League rosters.