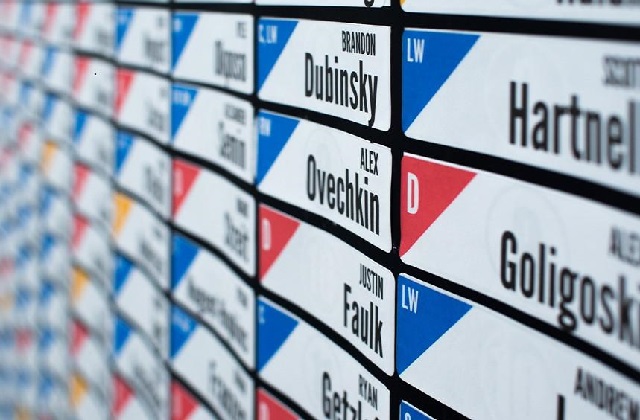 Written by Todd Lewys
01 October 2019
With so much roster upheaval in the NHL prior to the 2019-20 NHL season, it's important to look at how a team's overall prospects look before drafting individual players.
That's because NHL power rankings have changed considerably over the off-season.
For example, the Winnipeg Jets - once an offensive powerhouse - lost three of their starting six defenseman this past off-season. With Jacob Trouba, Tyler Myers and Ben Chariot gone - and Dustin Byfuglien deciding whether he's going to continue playing - the Jets' offensive output may decline.
The upshot here?
It might be wise to take players like Blake Wheeler, Mark Scheifele, Kyle Connor and Patrik Laine further down the board. With an unproven defense behind them (with the exception of Josh Morrissey and Neil Pionk), a lack of crisp breakout passes to streaking forwards could curtail offensive production in Winnipeg.
On the other hand, several teams that struggled offensively last year could improve dramatically thanks to an infusion of new talent.
Take the New Jersey Devils and New York Rangers, for example. The Devils picked up first overall draft pick Jack Hughes and defenseman P.K. Subban, a former Norris Trophy winner. With a healthy Taylor Hall back at centre - plus talented forwards Nico Hischier and Kyle Palmieri - look for the Devils to put up some very good offensive numbers.
The same goes for the Rangers. The addition of the likes of high-scoring winger Artemi Panarin, D Jacob Trouba, second overall pick F Kappo Kakko (after Hughes) and W Filip Chytil is bound to translate into more goals for the Blueshirts. Question is, will goalies Henrik Lundqvist and a so-so defense be able to keep the puck out of the net?
Meanwhile several teams that struggled last year figure to do the same during the 2019-20 season.
Granted, the world's best player, Connor McDavid, and all-world winger, Leon Draisaitl, will lead the Edmonton Oilers' offense, while Ryan Nugent-Hopkins will also put up solid numbers. After that, things get thin in Edmonton's forward pool. With a lack of talent up front and a mediocre defense that does a poor job of moving pucks up to breaking forwards, look for the Oilers to struggle offensively. As for goalies, do not pick either Mike Smith or Mikko Koskinen - the Oilers also figure to finish near the bottom of the league in goals allowed.
Both the Anaheim Ducks and Nashville Predators figure to be in the same boat as the Oilers, but for different reasons.
The Ducks' forward group is aging or in transition, with C Ryan Getzlaf leading the way. His offensive production has dropped off in recent years, while other forwards outside of Rickard Rakell, Adam Henrique, Ondrej Kase have yet to prove they can be an offensive force. At the same time, the Ducks' defense falls off behind Cam Fowler and Elias Lindholm. Goaltenders John Gibson and Ryan Miller will doubtless see a lot of rubber this season.
As for Nashville, they did add talented centre Matt Duchene to the mix, but lost the aforementioned Subban. Holdovers Filip Forsberg, Ryan Johansen and Viktor Arvidsson will be counted on heavily to provide offense up front, while D Roman Josi, Mattias Ekholm and Ryan Ellis will be expected to put up solid offensive numbers while keeping their end of the ice clean.
At 37, G Pekka Rinne figures to continue to be on of the NHL's best puck stoppers, while Jussi Saros will be a more than adequate backup.
Teams that maintained the status quo in the off-season figure to be strong offensively: Tampa Bay, Calgary, Dallas, and Washington; hard not to pick marquee names like Kucherov, Stamkos, Point, Gaudreau, Tkachuk, Monahan, Seguin, Benn, Radulov, Ovechkin and Backstrom.
And while the Pittsburgh Penguins figure to struggle offensively, Sidney Crosby, Evgeni Malkin and Kris Letang remain solid offensive picks. Just don't look for G Matt Murray to win the Vezina Trophy this year.
Columbus, Vancouver, Montreal and Arizona all figure to struggle offensively. Still, Vancouver C Elias Pettersson is a great sleeper pick along with teammate Brock Boeser. Arizona has newly acquired Phil Kessel and Clayton Keller, while Columbus really has no one of note.
The Chicago Blackhawks could be another offensive sleeper, as Patrick Kane and Jonathan Toews are coming off strong seasons, and F Alex DeBrincat and Dylan Strome are showing promise. Robin Lehner could also be a good choice in net.
Both the Toronto Maple Leafs and Colorado figure to be offensive juggernauts, though they could struggle on the defensive side of the puck at times.
The bottom line in this season's NHL Fantasy Draft?
Base a high percentage of your picks on overall team strength. The teams that fare well in the standings will surely have their share of high-scoring forwards and defenseman - and goalies that keep the puck out of the net (Carey Price, Andrei Vasilevskiy, Sergei Bobrovski, Ben Bishop).