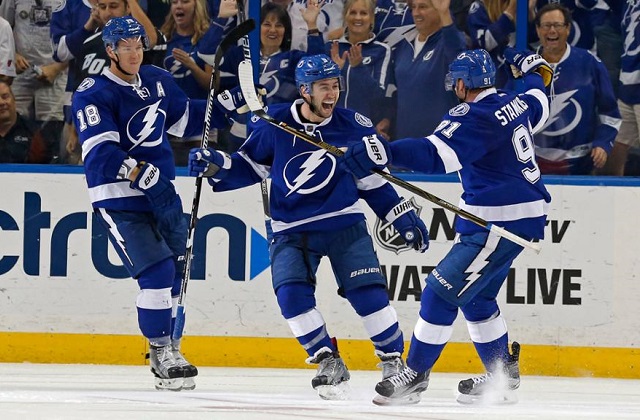 Written by Todd Lewys
15 March 2019
First, with tight playoff races in most divisions, teams are jockeying for position, whether it be top seed or a wild card spot.

Second, some teams (hello Tampa Bay Lightning, shoo-ins for the President's Trophy as the NHL's top regular season team) are gearing up for the post-season, trying to maintain top form while possibly resting some regulars to prepare for an intense, rugged Stanley Cup run.

While it is undoubtedly nice to be home and cooled as the Lightning are, there's something to be said for fighting your way into a playoff spot.

That's a scenario that's currently unfolding in the Metropolitan division, where Carolina, Pittsburgh, Columbus and Montreal are fighting for playoff spots.

Of late, the Hurricanes have been so-so, getting clobbered by the Winnipeg Jets at home 8-1, then reeling off a pair of wins. The Blue Jackets have also been inconsistent, looking like a playoff contender one night, a pretender the next.

Still, their loaded roster (Panarin, Duchene, Dzingel, Bobrovski, Jones) could get it together and take it deep.

Meanwhile, the Canadiens are in their annual free-fall from the playoffs with key players (i.e., Jonathan Drouin) mired in deep slumps - and all-world goalie Carey Price trying to win games on his own in the face of little or no offensive help.

That leaves the Crosby-led Penguins, who are in the midst of making a run for the Metropolitan division title.

Don't look now, but Sid the Kid has put up 19 points in his last 10 games, Evgeni Malkin has seemingly awoken from a season-long slump, Phil Kessel is once again filling the net and Justin Schultz is playing inspired hockey back on the blue line. Oh, and goalie Matt Murray is looking healthy again.

Look for the Pens to continue their run and make a bid to overtake the Washington Capitals for the Metro division title.

That said, don't discount the Caps, either, with the likes of Ovechkin, Backstrom, Carlson and money goaltender Braden Holtby. Which team to pick long-term for playoff pools? It's a pick 'em, considering Crosby and The Great 8 could well meet again in the playoffs down the road.

Another team that's looking good is the Boston Bruins.

Even though they've lost three straight as of this writing, they're a gritty team that seems built for the playoffs with proven performers like Patrice Bergeron, Brad Marchand and goaltender Tuuka Rask.

And if budding superstar David Pastrnak returns from injury - same goes for stand-out D Torey Krug - in time for the playoffs, look for the B's to dispatch the talented Toronto Maple Leafs in a long series.

That said, the Leafs could also go deep if their talented group - which includes John Tavares, Mitch Marner, Auston Matthews. D Morgan Rielly and G Frederk Andersen - comes prepared to pay the price.

Much like Pittsburgh and Washington, one very good team will lose early in a Bruins-Leafs showdown. And with that loss goes a lot of potential pool players who can contribute a ton of points to the cause.

Out west, the clear favourite is the San Jose Sharks.

With a deep roster that plays a fast, intense style, they have the potential to go deep with players like Pavelski, Burns, Karlsson and Kane being great pool picks.

The lone question mark is Sharks' goalie Martin Jones, whose play has been spotty this year. He will have to upgrade his play - significantly - for the Sharks to go deep.

Suffice it to say, the offensively-gifted Calgary Flames is another team that could go on a long playoff run. With a talented offensive group led by the line of Gaudreau, Monahan and Lindholm - and a mobile defense anchored by Norris Trophy candidate Mark Giordano - the Flames have the goods to play well into May.

Their only potential weakness is in net, where veteran Mike Smith and sophomore David Rittich have been average all season. While the Flames' offensive power has overcome average goaltending in the regular season, that won't happen in the playoffs, where goaltending must be stellar for teams to advance.
Other western favourites include the Nashville Predators and Winnipeg Jets.

However, both teams have played only .500 hockey since January.

The Jets have been hit by injuries (D Josh Morrissey, D Dustin Byfuglien) on their blueline and have been wildly inconsistent. At the same time, the Preds have struggled to find their game all season long.

If their goalies get hot, though - Jets' Connor Hellebuyck and Preds' Pekka Rinne - look out, as they both possess ability to take a team on their shoulders (as Hellebuyck showed last year).

Look for a team like St. Louis to possibly leapfrog Winnipeg and Nashville.

They've found their game with Jordan Binnington in net, and have proven they can play gritty, playoff-style hockey. That said, sniper Vlad Tarasenko just went on injured reserve; that's a blow to the Blues' offense.

Don't discount the Dallas Stars, either. Provided goalie Ben Bishop's injury isn't serious - and stars like Jamie Benn, Tyler Seguin, Alex Radulov and D Jon Klingberg play up to their potential - the Stars could be a playoff sleeper, and provide plenty of scoring depth for fantasy playoff pools.

The bottom line in all this?

Aside from the juggernaut that's the Tampa Bay Lightning, the NHL's playoff picture is wide open.

It's just a matter of which teams get hot at the right time with timely scoring and great goaltending.

All the jockeying for position will make for an interesting final 15 games - and all kinds of intriguing playoff match-ups.

This email address is being protected from spambots. You need JavaScript enabled to view it.