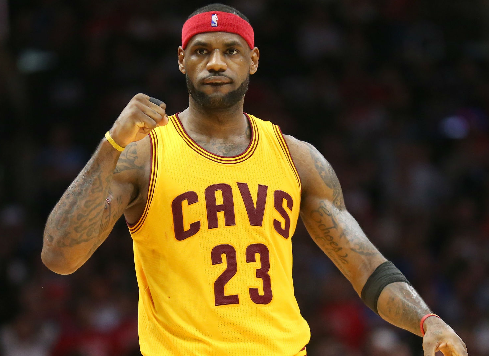 Written by Daniel Brown
31 January 2017
In this column we look at players that are putting up great fantasy points (Slam Dunk) in their recent matches and have solid matchups this weekend, as well as players that have been ice cold (Air Balls). In addition we consider players who have been performing well but we expect them to struggle in the upcoming matchups (Air Balls) or those that might exceed recent expectations (Slam Dunk).
We break down several players that fall into either category, some are more obvious players that you should be including in your lineups most times (James Harden; Russell Westbrook and those elite scoring players), however mostly we will try and analyze those supporting players that you can use to fill out your roster with available funds.
Tonight we have several great potential fantasy match ups including the Cavaliers at the Mavericks, the Kings at the 76ers and the Grizzlies at the Suns.
Tomorrow night features the Kings at the Rockets, the Knicks at the Wizards and the Pelicans at the Raptors.
Slam Dunks:
LeBron James (SF - CLE) – LeBron is a dominant force in this league and the focal point of a very good Cavs offense. This gives him plenty of opportunity to put up fantasy points whether through scoring, rebounding or assists - all of which he has demonstrated outstanding skills in. Tonight he gets the Mavericks on the road, and both teams have averaged over 100 points against them this season, which gives us plenty of reason to be optimistic about LeBron tonight. The over/under is somewhere around 205-210; we will be taking the over and expecting big things from LBJ. Double-Double seems almost a given, we expect around 20 points, 10 rebounds and 10 assists … and the likelihood he will go over these numbers gives us upside!
DeMarcus Cousins (PF – SAC) – Cousins has been averaging 28 points per game this season with 10 rebounds and 4.5 rebounds. He is the main attraction in an otherwise average basketball team, and tonight the Kings travel to Philly for the makeup game before heading tomorrow night to the Rockets. This is the back end of a long road trip for the Kings and so while there is some concern regarding fatigue, the opportunity here is enormous for Cousins as it is most nights he is on the floor. Both teams tonight have given up over 105 points per contest meaning defense will be optional and with Joel Embiid (C - PHI) out for the match up there is no reason Cousins can't be big on the scoresheet tonight and drag down a load of rebounds! Tomorrow night is another potential high scoring game against the Rockets (who have given up 108 points per contest) where defense will again be optional. We like Cousins a lot in both of these games, stacking players from both lineups each night could be a great strategy.
Marc Gasol (C – MEM) – Gasol is in a groove right now and being the primary focus in the Memphis lineup means he will have plenty of opportunity to continue to post solid stat lines which is what we want in fantasy. Averaging almost 21 points per game, with an over/under projected to be around 210 and the Suns giving up a crazy 112 per contest this season, Gasol is in a great spot to come out and put up BIG points. We really like him tonight in all lineups no matter the cost.  
John Wall (PG – WSH) – Wall is a very good player, and at home against the Knicks he has  the opportunity to go off! Averaging almost 23 points and over 10 rebounds per contest, Wall will have opportunity a plenty to post big numbers. The Knicks give up almost 109 per contest, and being on the road here we think that number is a little generous. We expect Wall to benefit the most in this contest and be in position to put up plenty of points.
James Harden (SG – HOU) – Hardin has been outstanding this season from both a live perspective and a fantasy perspective. He is the highest scorer on his team averaging just under 29 points, leads the team with rebounds per game averaging over 8 and assists as well with 11.5 per contest. He is in a rhythm offensively and able to work the glass defensively when needed to the extent that he is putting up great numbers and against a fairly average, travel weary Kings team he could set the fantasy point single game record! Look for a massive contribution from him in this one.
Air Balls:
Louis Williams (SG – LAL) – It's rare that you will see a 6th man candidate as an Air Ball, because the implication is that he will not produce as well as he has been, but that's exactly what we are bringing to you this week. Lou Williams is in a great position to put up points with both Randle and Russell out of the lineup, against a very susceptible Denver defense while playing at home in Staples centre. Coming off games of 20 and 31 points with 5 and 4 rebounds respectively, he has a chance to put up a big score, however we think that despite his years in the league (10) he will put up a disappointing stat line tomorrow night against the Nuggets.
DeMar DeRozan (SG – TOR) – DeRozan has featured on our Slam Dunks list previously, however tomorrow night at home against New Orleans, we are putting him in the air ball category. Typically the Raptors score freely, and the two biggest beneficiaries of this are DeRozan and Lowry. Sometimes, these two players end up limiting each other in terms of stat lines making neither one of them a good play. This is what we expect to happen against the Pelicans tomorrow night. In fact we think this game could be a surprisingly low scoring matchup despite the number of points both teams are giving up and so we are staying away from the Raptors tomorrow night in what otherwise looks like a good matchup.