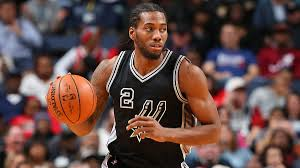 Written by Daniel Brown
29 November 2016
Safe and Speculative Plays For Tuesday Night – November 29th 2016.
Each night of the NBA season there are different options based on the number of games available and the expected players available. Here we look at some safer plays ("Free Throw" and "2 pt" Player), some riskier plays ("3 pt" and "Half Court" players), and give you a speculative player based on pricing ("Full Court Prayer" under $4,000 Draftkings) from the 6 games being offered for Tuesday night.
Check in each Tuesday to see who is recommended for inclusion and over the course of the season we will review the hits and misses! (For this we considered anything less than $200/pt to be a hit and anything else was a miss).
"Free Throw "player:
Kawhi Leonard (SF – SAS - $8,400 Draftkings) – Averaging 43.1 Fantasy Point Per Game ("FPPG") this season Leonard continues to show very strong performances on the back of a great season last year. Leonard had a quieter game at Washington on Saturday night scoring 32.8 Fantasy Points ("FP"), however he scored at least 40 in the 7 previous games and given his consistent performance he represents a solid floor with some upside against a reasonably tough Orlando Magic defense.
Last Week – Russell Westbrook – 67 Fantasy Points - $187/pt – HIT!
Season Stats: 2/2 (2pts)
"2 pt" player:
Kyrie Irving (PG – CLE - $7,600 Draftkings) – Kyrie is coming off a big fantasy game on Sunday against the 76ers, who the Cavaliers struggled with for most of the game, however his 49 FP from 39 points and 5 made 3-pt shots was his second 49 FP in the last 4 games. With his salary remaining at $7,600 and going up against a team that averages 102 points on defense, Irving has the skill, the minutes and the freedom to take shots from behind the arc, or pass inside to rack up big numbers in this match through points, 3-pts made and assists.
Last Week – Jimmy Butler– 57 Fantasy Points - $161/pt – HIT!
Season Stats: 2/2 (4pts)
 "3 pt" player:
Brook Lopez (C – BKN - $6,400 Draftkings) – Lopez has been very solid over the month of November averaging 36 FPPG. The last three games have seen a slight decrease on that average (under 30 each game), however against a LA Clippers team that ranks 28th against opposing Centre's and a game that should be reasonably high scoring, Lopez has a chance to hit the 50 FP mark in this one, although a more realistic expectation might be 40 FP.  
Last Week – Kristaps Porzingis – 46.25 Fantasy Points - $162/pt – HIT!
Season Stats: 2/2 (6pts)
"Half Court" player:
Nikola Vucevic (C – ORL - $6,200 Draftkings) – Earlier we highlighted Kawai Leonard as our "Free throw" player, and in a match we expect to be high scoring, we like Nikola Vucevic to get some solid opportunities both inside and from the free throw line. In addition he is averaging almost 12 Rebounds ("REB") per game, and 2.5 Assists ("AST"). On Sunday he completed his 3rd straight double-double finishing with 17 points and 16 REB and while he came off the bench in that game, we expect him to either return to the starting line up or receive considerable minutes in this one that make him a solid start Tuesday night.  
Last Week – Jrue Holiday – 30.5 Fantasy Points - $210/pt – Miss
Season Stats: 1/2 (4pts)
 "Full Court Prayer" player:
Jamal Crawford (SG – LAC - $3,700 Draftkings) – This was a tough one this week looking for the low salary with upside, however we settled on Crawford because we expect this to be a reasonably high scoring game, and because he has upside. That being said he carries massive risk as shown by his 7.8 FP and 8.3 FP against Chicago (11/19) and Portland (11/09) respectively. We expect him to get decent minutes and if the shots fall for him he could have a big night.
Last Week – Kyle O'Quinn – 12.75 Fantasy Points - $282/pt – Miss
Season Stats: 1/2 (5pts)
Last Week Total Pts: 6
Season Total Pts: 21