Written by Mab Sidam
11 January 2023
The following chart shows field goal attempts versus effective field goal percentages for players that average at least twenty points per game.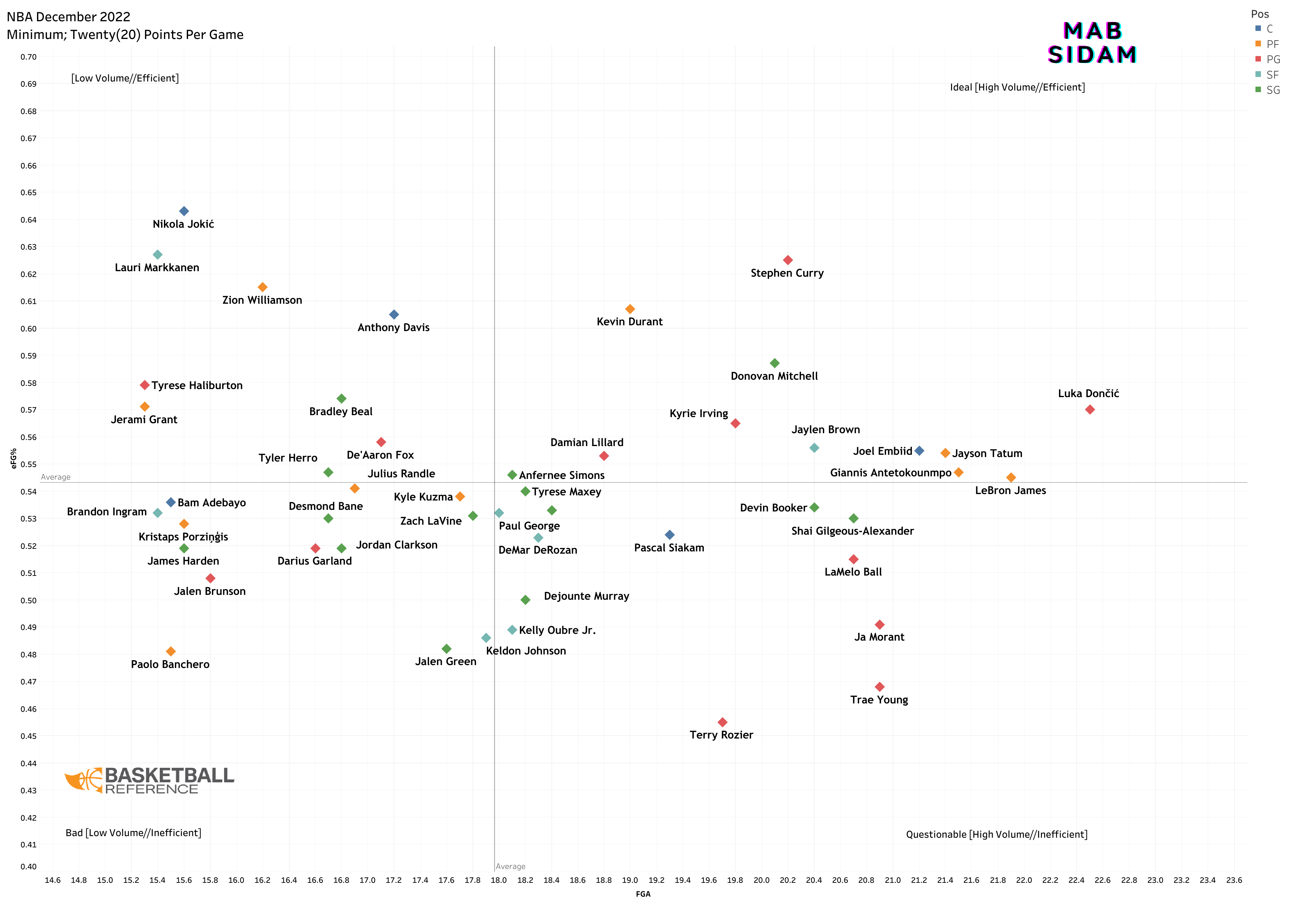 FGA = "A field goal is a basket scored on any shot or tap other than a free throw, worth two or three points depending on the distance of the attempt from the basket."
eFG% = "In basketball, effective field goal percentage is a statistic that adjusts field goal percentage to account for the fact that three-point field goals count for three points while field goals only count for two points."


Some Of The Best
#1 Stephen Curry (GS): Shooting 62.5% on 20.20 attempts per game 
Stephen Curry has changed scoring. The NBA's most efficient scorers usually dominate directly at the rim or close to the rim, but Curry's scoring threat is established at the 3pt line. Curry has ushered in an era where guards can dominate scoring like old school PF's/C's with mastery of the 3-point shot. Fellow guards like Donovan Mitchell and Damian Lillard are taking advantage of this new scoring lane.
#2: Giannis Antetokounmpo (Mil): Shooting 54.7% on 21.5 attempts per game 
Giannis Antetokounmpo is keeping it traditional as a scorer dominating at the rim, leading the NBA in dunks.  Giannis lacks the scoring versatility of Steph but is equally unstoppable with his one trick of being a Bull in a China shop on the way to the basket.
#3 Kevin Durant (Brk): Shooting 60.7% on 19 attempts per game 
Rounding out elite scoring is mid-range assassin Kevin Durant. The 7-footer floats around just outside the restricted area raining in shots from all directions. An argument can be made for Durant to be the NBA's most complete scorer due to from how many zones he can make a shot.


Low Volume Superstars
#1 Nikola Jokic (Den): Shooting 64.30% on 15.6 attempts per game
Jokic is one of the NBA's most skilled scorers. He is penalized for using the low post as a playmaker zone as much as a scoring zone, higher volume low-post scorers such as Giannis and Embiid are just as efficient. For the Nuggets, Jokic sacrificing scoring volume for team play is a big advantage.
#2 Lauri Markkanen (Utah): Shooting 62.70% and averaging 15.4 attempts per game
Markkanen has been a surprise scoring threat this season. The new Utah Jazz power forward has brought elite three level scoring to a surprise feisty Jazz team. Markkanen's three point shot is legit, he is a good midrange shooter, uses his size well under the post and is a great free throw shooter. At times the scoring shows shades of Dirk Nowitzki.
#3 Jerami Grant (Por): Shooting 57.10% on 15.30 attempts per game
The Trail Blazers traded for Grant to provide the team with much needed wing scoring and defense. Grant has quietly emerged as one of the NBA's most efficient scorers as he bounced around the league. Partnering Grant with star guards Lillard and Simons has given the Trail Blazers a very prolific perimeter offense.


The Questionable/Shoot Less/ Shot Elsewhere
#1 Trae Young (Atl): Shooting 46.80% on 20.10 attempts per game
Trae Young is having his worst year shooting the three ball and this weakness has had a ripple effect on the rest of his game. Defenses not respecting his shooting threat allows them to drop off him and close his driving lanes towards the rim. Young makes plays due to the lowered attention he gets while driving. With his shooting in question he is not attracting that second defender to stop him limiting his on-ball playmaking.
#2 Ja Morant (Mem): Shooting 49.10% on 20.90 attempts per game
Despite his size Morant is one of the NBA's most active attacking-the-basket scorers. Playing under there amongst bigger bodies has become suffocating for Ja this season due to the attention he attracts when defense collapses on his drives. The Grizzlies try to surround Morant with shooters who take some attention away but the loss of De'Anthony Melton and the plateau of JJ III scoring development places more of the offensive burden on Morant, forcing him into taking too many bad/contested shots.


The Bad/ Inefficient Gunners
#1 Paolo Banchero (Orl): Shooting 48.10% on 15.50 attempts per game
The rookie star has quickly been installed as the Magic's number one scoring option. Banchero is clearly talented but it may be too early for him to be a contender's leading scorer. Banchero shows signs of being an elite three-level scorer. The Magic are allowing Banchero to grow into his role as their franchise player.
#2 Jalen Brunson (NYK): Shooting 50.80% on 15.80 attempts per game
The Knicks recently acquired guard Jalen Brunson to solve a point guard problem they have had for many seasons now.  Brunson is a great traditional combo guard who can be a contributor but not the star, on a contender team. He thrived as a second option off Doncic. The Knicks have a great piece but they still miss the star player to put the whole team's identity together.
#3 James Harden (Phi): Shooting 51.90% on 15.60 attempts per game
Harden is in the dream situation I described above, Joel Embiid is one of the most dominant scorers in the NBA, Harden plays off this attention to make plays or score on his own. Embiid's presence hides how inefficient/reckless Harden can be about his scoring and playmaking.


Conclusion
NBA players have never been more skilled than they are today. Because of the increased skill level, both for the way scorers are allowed to play and the increased space in which they have to operate, the potential for a high scoring performance is high every night across every team. The numbers we're seeing are a result of that offensive explosion.