Written by Mab Sidam
01 January 2023
The following chart shows 3-point attempts versus 3-point percentage for players that average at least four 3-point attempts per game.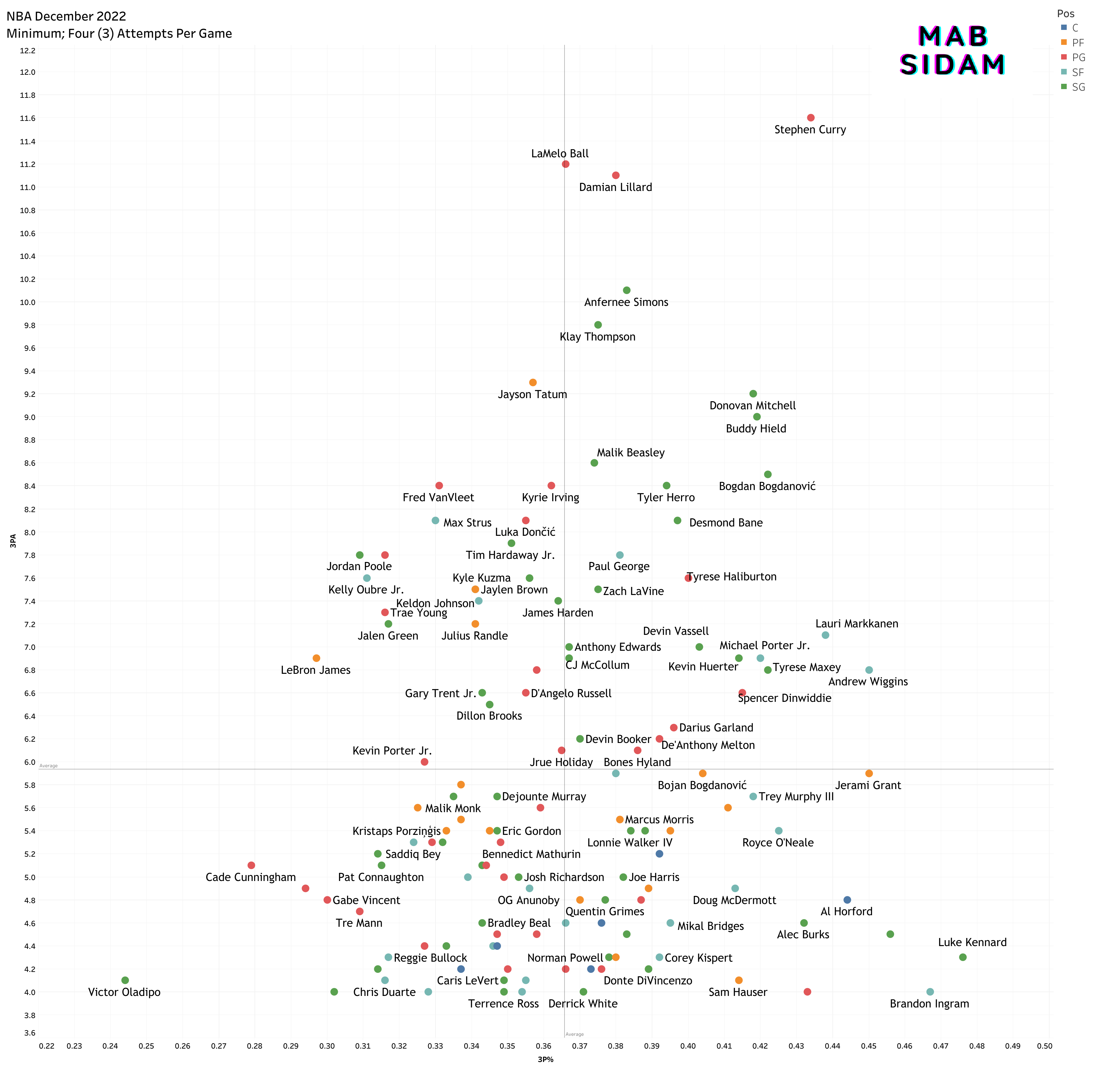 The Best
#1 Stephen Curry: Shooting 43.4% and averaging 11.6 attempts/game
Stephen Curry is an all time great at maybe the peak of his powers.

#2 LaMelo Ball: Shooting 36.4% and averaging 11.2 attempts/game
LaMelo Ball couples innovative passing with a relentless volume shooting mentality. The Hornets have one of the league's defining offensive players. However, dysfunction might mean they lose the talent.

#3 Damain Lillard: Shooting 38.0% and averaging 11.1 attempts/game
Damain Lillard is taking advantage of the 3PT era to become one of his era's defining scorers.


#4 Anfernee Simons: Shooting 38.3% and averaging 10.1 attempts/game
The Trail Blazers traded CJ McCollum to promote Anfernee Simons into a starter, early signs show this was the right move.

Odd Positions
#1 LeBron James: Shooting 29.7% and averaging 6.9 attempts/game
One of the few weaknesses in LeBron James' game remains his questionable perimeter shooting. The team has not helped by surrounding him with fellow non-shooters. Only an improved team setting changes this number.


#2 Trae Young: Shooting 31.6% and averaging 7.3 attempts/game
Young is an odd offensive player. He can create plays and score directly for his team at a high level, but he struggles to focus on a role and ends up trying to do too much, sacrificing efficiency. The 3-ball not falling this year has weakened his scoring and, coupled with his unwillingness to concede on the relentless scoring mentality, might have lost him a place on the team.


#3 Jordan Poole: Shooting 30.9% and averaging 7.8 attempts/game
These are not the numbers the Warriors were looking forward to after the extension. The Warriors are transitioning from the Klay-Draymond days to a new young core, Poole's production is suffering during this period.


#4 Jalen Green: Shooting 31.7% and averaging 7.2 attempts/game
Green is an athletic wonder trapped in a bad situation. He is one of the best at attacking the rim, but the steady development of his 3-point shot is what made him an interesting draft prospect. His 3-point growth seems to have regressed on a bad team that forces him to take routinely tough shots. If Green could ever master his 3-point shot or play on a better-coached team he immediately becomes one of the NBA's most explosive scorers.


The Worst
#1 Cade Cunningham: Shooting 27.9% and averaging 5.1 attempts/game
Cunningham is having an injury riddled second season on a terrible team. The 3-ball was one of Cunningham's weapons in college, but he is yet to translate to the NBA. A healthy run of games could see the numbers improve.


#2 Victor Oladipo: Shooting 24.4% and averaging 4.1 attempts/game
Oladipo has not been the same player since his knee injury. He has lost his burst going forward causing defenders to change how they guard him, and this has contributed to a horrible shooting season while still battling injuries.


#3 Jalen Suggs: Shooting 29.4% and averaging 4.9 attempts/game
Jalen Suggs is a high energy player, a creative playmaker and very active defender who makes plays on the ball. However, in the modern NBA if the guard cannot shot it is a great weakness for the team offense to overcome, e.g. Ben Simmons.
Suggs has shown improvement in his shooting in his 2nd season. and could be a better shooter on a better coached team.