Written by Mab Sidam
29 October 2022
Kristaps Porziņģis is a player ahead of his time. When he was first drafted many fans and analysts alike praised and were confused by his combination of size and shooting ability. What exactly was this 7+ footer with guard skills?

Porziņģis was dubbed a Unicorn. At the time it was rare/bonus skill for a Big(#4 or #5) to shoot, however the NBA has changed drastically over the years.

https://youtu.be/NsBGF1fjXvY

Before the 3PT boom ushered in by the mid 2010's Golden State Warriors. A stretch four was a player at the power forward position that could shoot further from the basket than a common power forward. The 3PT boom made the position a must rather than a rotational role. This killed the value of having one as it was no longer a mismatch or matchup nightmare to have a PF who could stretch the floor. Every team seemingly had one.
If Kristaps Porziņģis was born a decade earlier he could've been the equal to Dirk Nowitzki, a scoring forward capitalizing on the mismatches he enjoyed all season. In the modern NBA Porziņģis is just another stretch big no different than Myles Turner or Karl Anthony Towns. Defenses have adapted and learnt how to deal with pesky perimeter giants.

A Great Stretch 4 Nonetheless
The skills that made Porziņģis a former All Star are still valuable even if he isn't exactly a Unicorn type NBA player.
The hallmarks of a great stretch 4 (using Dirk Nowitzki as a reference) are score first mentality, great perimeter shooting, a capable ball handler and a good weak side defender.

Porziņģis The Scorer

Kristaps Porziņģis matchups to these traits to varying degrees. He is a natural shoot first player. However, this part of his game suffered playing next to Luka Doncic. Doncic likes to keep hold of the ball to set himself up to score. This led to long stretches Porziņģis wouldn't be involved offensively.

Porziņģis and Luka suffered to play together as they both want to occupy the same zones. The perimeter to mid range area. The Mavericks preferred Doncic to handle this zone as he is the better playmaker/passer.

https://twitter.com/KevinOConnorNBA/status/1465394047690940421?t=1lg3vEitikpXkvqqInRlpA&s=19

Porziņģis favorite shooting zones were almost always occupied as a Maverick. A trade to the Washington Wizards allows him the opportunity to work in his favorite zones.

https://twitter.com/NBAChartBot/status/1528453499758907392?t=W6kTUdaZPTcYE8ZboPEdBQ&s=19

A good example of Porziņģis ability as a scorer is his ability to win free throws, this shows his ability to command defensive attention and turn it into fouls. He is a high volume FT shooter for his position trailing only scoring machines Kevin Durant and DeMar DeRozan in volume and efficiency.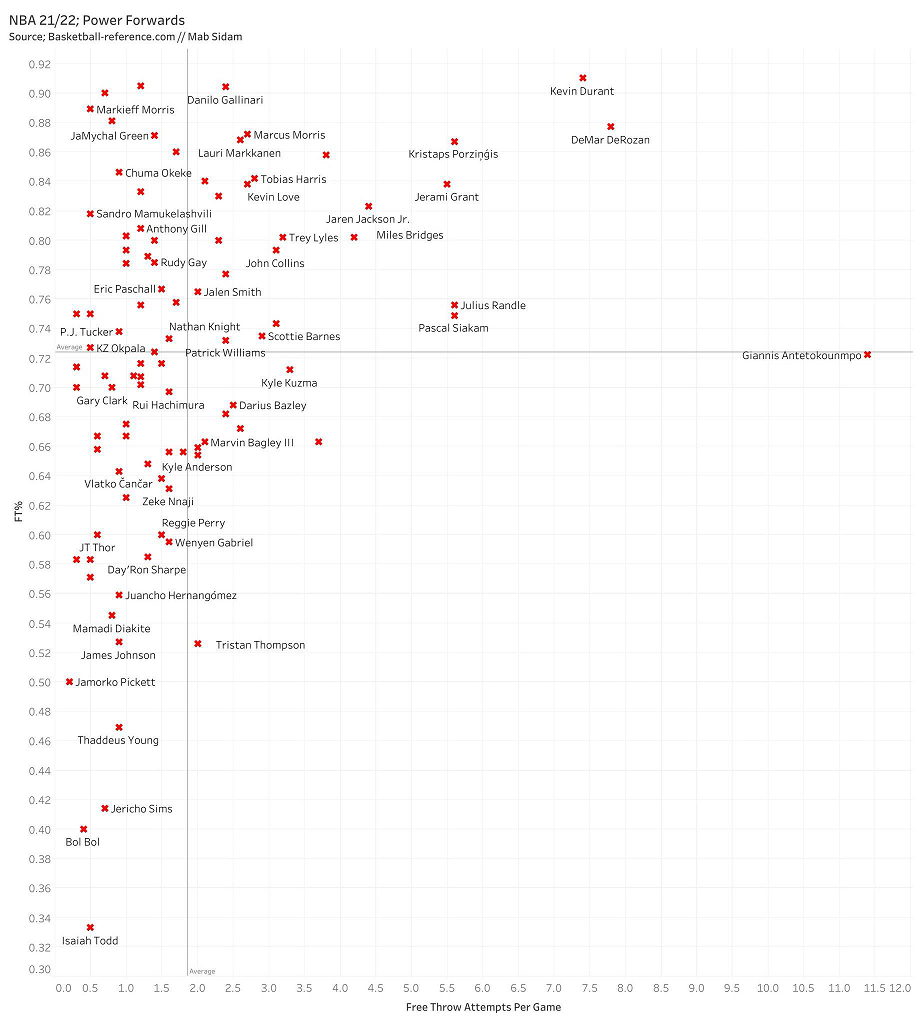 Porziņģis Perimeter Shooting As A Maverick
| | | |
| --- | --- | --- |
| Season | 3PT Attempts per Game | 3PT% |
| 2019/20 | 7.1 | 35.2% |
| 2020/21 | 6.0 | 37.6% |
| 2021/22 | 5.1 | 28.3% |
The table above shows a clear drop off in attempts and efficiency over the years, with last season in particular being abysmal.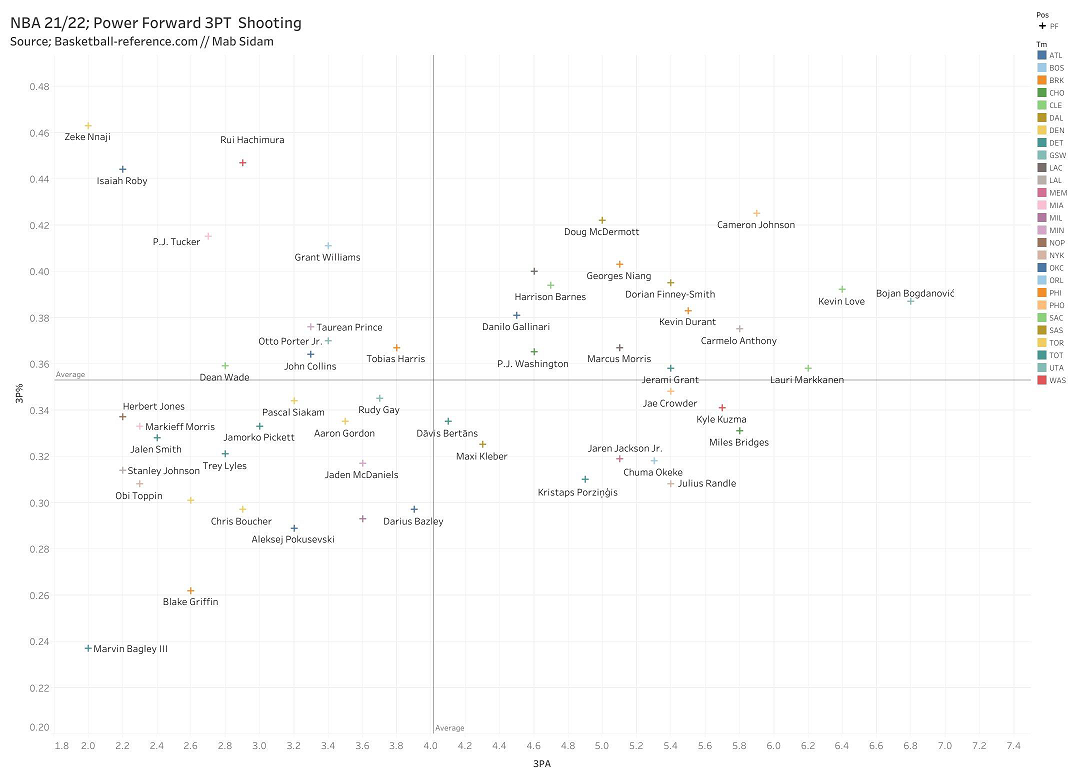 Last season he was shooting as well from the 3 as the infamous Julius Randle. A drop off like this from a player who was a consistent shooter isn't a question of talent, it was down to team role and motivation. Porziņģis was drifting non motivated member of the Doncic show and he was moved off due to his inability to mesh with the Mavericks franchise star.

KP needs his 3PT shooting threat to return if he is to play stretch 4 in the modern NBA.

Porziņģis The Ball Handler

For his position Porziņģis is an above average ball handler. He can't be asked to run a teams offense in a guard like fashion but he'll make the extra pass and can get on ball for moments (though he will look to set himself up, rather than anyone else, for a shot).

Porziņģis The Defender

Porziņģis is one of the most defensively active players in his position. He makes use of that long frame to disrupt passes and alter shots. This aggressive approach has a downside (plenty of fouls) but helps establish an edge to any defense Porziņģis is on.

https://twitter.com/IsaacLHarris/status/1207500886660014080?t=5ytop7MKd3WVXlLcXIJMqg&s=19

The weaknesses of Porziņģis as a defender come from the fact he cannot be the anchor of a defense, but rather a great complimentary defender/weak side defender. When asked to anchor he can be overpowered by a more traditional #5. When asked to switch as the anchor of the Mavericks, the team usually didn't have anyone to fill his role under the post.

https://twitter.com/jackfrank_jjf/status/1398690805821313029?t=fe9jT3ZM4m4gB93eXxuDQQ&s=19

This is a problem that may persist with the Washington Wizards who also lack a traditional #5 to anchor the team as Porziņģis floats as the weak side #4 defender.

In Conclusion

Kristaps Porziņģis is still a great overall forward who would thrive in the right role and on a team that suits his unique skillset. Is that Washington Wizards? Maybe not.

The stretch 4 is no longer a rarity, but of the bunch available Kristaps Porziņģis is arguably one of the best around.