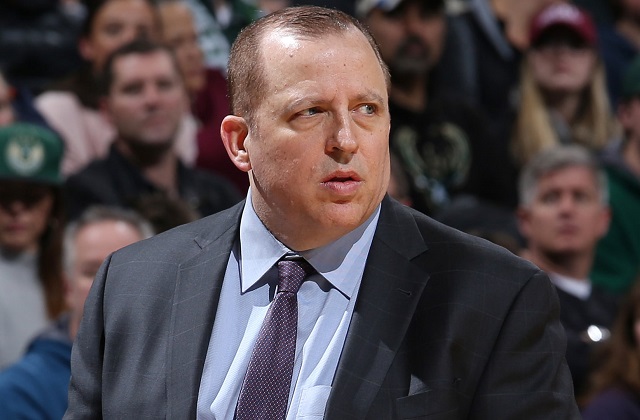 Written by Ramsey Arellano
22 May 2020
Tom Thibodeau has been in the NBA news cycle recently and not just because there is a lull in actual action to talk about. The polarizing coach has been linked with a return to the game with the New York Knicks, Houston Rockets and Brooklyn Nets all reportedly interested in securing his signature to coach their team.
Thibs undoubtedly has his issues. Many players have been left worn out by his tendency to overwork key players. Others see his approach to the game as too old school to work.
However, ask around the NBA and his many supporters recognize his skills, particularly Thibs' expertise as a superb assistant coach – winning an NBA Championship with the Boston Celtics. His presence being credited with the containment of Kobe Bryant during the 2008 NBA Finals.
Thibodeau has earned a reputation as a superb defensive strategist and is highly regarded by his peers. However, it is not just his ability on the defensive end that NBA staff admire. Jeff Van Gundy hired Thibs as assistant because of "his innovative offensive sets" and "player development skills".
Indeed, Thibodeau's time with the Houston Rockets serves as a prime example. While with the Rockets, Thibs began traveling to China to work with Yao Ming – looking to hone the Chinese center's skills. He would reportedly work with Ming for hours, polishing his footwork and fundamentals. After training 1-to-1 with Thibodeau, Ming went on to average 22.3 points and 10.2 rebounds a game the following season.
Which is the best fit?
Houston currently has a coach, but the Rockets organization is ready to move on from Mike D'Antoni and is in a 'championship-or-else' situation whenever play resumes, which looks unlikely based on the latest basketball odds as they are +1300. Reports suggest D'Antoni is on the hot seat, but Thibs taking over might be a long shot.
Houston's small-ball, positionless basketball seems at odds with Thibodeau's skill-set. He could sharpen up the team's defensive struggles, but this franchise is in win-now mode, James Harden, Russell Westbrook and co. are all developed players not looking for a cultural reboot.
Over at the Nets, it looks as though they need a babysitter rather than a coach. It took a few months of play for Kenny Atkinson to be driven out of the Barclay's Center by Kyrie Irving and Kevin Durant – two names not known for their excellent chemistry with teammates or coaches. A players' friend coach like Tyronn Lue or Mark Jackson is a more likely candidate for the Nets.
Here we get to perhaps the best fit. A team in desperate need for a shake up, a reboot and real leadership. The New York Knicks have a roster stacked full of unfilled young talent. It might well be that this talent isn't as good as the Knicks thought they were coming into the draft, or more likely, haven't been given the best tools to succeed by a franchise in perpetual turmoil.
RJ Barrett, Kevin Knox, Dennis Smith Jr. and Mitchell Robinson would all benefit from Thibs' player development – providing he doesn't play them 48 minutes a game.