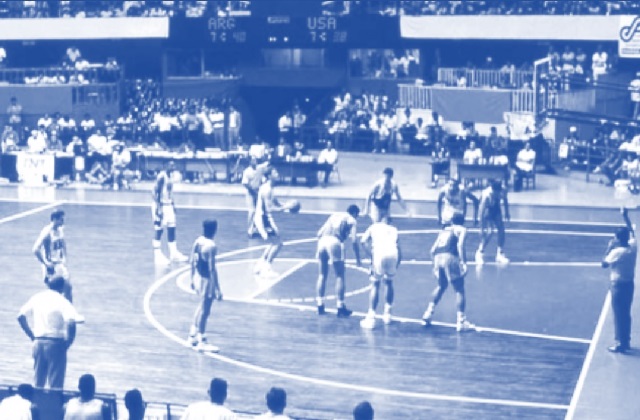 Written by Willard Simms

08 April 2020


So was the Dream Team of the 1992 Olympics the greatest basketball team ever assembled? Most would say yes. But the second greatest team ever assembled very rarely gets talked about! No, it's not the often mentioned 1996 Olympic team, which lacked Michael Jordan, Magic Johnson, Larry Bird and others from the 1992 team. While that team won the 1996 Olympics, it was top heavy with aging players and centers and didn't have anywhere near the guard strength that the real second best team ever, the 1960 USA Olympic Team, had. That team had one of the best basketball guard pairings of all time: Oscar Robertson and Jerry West! In the 1960 Olympic Games Robertson and West were in their early 20's and presented an unstoppable combination of scoring, passing and basketball smarts.

That 1960 team dominated the Olympics like no other, including the 1992 Dream Team. The 1960 team averaged 102 points a game, and their average margin of victory was a whopping 42.4 points a game, as they held their opponents to an average of just 59.6 points a game. Three players on that team (Oscar Robertson, Jerry West, and Jerry Lucas) are listed among the 50 greatest basketball players of all time, and the entire team was named to the Naismith Basketball Hall of Fame!

The 1960 USA Olympic basketball team also was an all amateur team, as at the time professionals weren't allowed to participate in the Olympics. So that team also happens to be the greatest amateur team ever assembled for any country. And it was a young team - the average age of team members was 22. Under Coach Pete Newell they played a version of "small ball", emphasizing ball movement, passing, and shooting. Why wouldn't you - when you're starting two of the greatest guards of all time who perfectly compliment one another? Their team was the only one in Olympic history to have all five starters average double figure scoring for the entire tournament. The starters were Oscar Robertson (17.3), Jerry Lucas (16.8), Jerry West (14.1), Terry Dischinger (11.3) and Adrian Smith (10.9).

The team:



Jerry Lucas

: Lucas was the team's 6 foot 8 inch sharp-shooting center. Lucas beat out 7 foot Naismith Hall of Fame center Walt Bellamy for the starting slot on the team. In his NBA career, after the Olympics, Lucas hauled down 12,942 rebounds for an average of 15.6 per game, the fourth-best career mark in NBA history behind Wilt Chamberlain, Bill Russell and Bob Pettit. In 1964 and again in the 1965 NBA season he averaged over 21 points and 20 rebounds a game, and in 7 of his first 8 seasons he made the NBA All Star team. As for Walt Bellamy, during his first NBA Season in 1961-62 he averaged 31 points and 19 rebounds a game. The only thing that kept him from dominating the 1960 Olympics was playing second fiddle to Jerry Lucas.



Oscar Robertson

: After winning the Olympic Gold Medal he became the first NBA player to average a Triple Double – achieving double figures in points, rebounds, and assists in a game for an entire season. In fact he averaged a triple-double in his first 5 NBA seasons! In the 1963-64 season Robertson also led the NBA in free-throw percentage, while scoring 31 points per game, with 10 rebounds and 11 assists.



Jerry West

: Was voted 12 times to the All-NBA First Team, and was selected to go to the NBA All-Star Game 14 times. In the 1965 NBA playoffs, West averaged 46.3 points per game, a figure that is still an NBA record. He was chosen as the All-Star MVP in 1972, and that was the same year that his team won the NBA championship. The NBA logo is a recreation of a photo of Jerry West dribbling the ball up court. Enough said!



Adrian Smith

: Was a college standout, starting for Adolph Rupp at the University of Kentucky, when that team was winning the National Championship in 1958. During his first three seasons in the NBA, he served as backup guard for the Cincinnati Royals behind Oscar Robertson. In his 4th season he became a starter alongside Robertson and was selected to play in the 1966 NBA All Star game. In a game that included sixteen future Hall-of-Famers, Smith was named MVP after he scored 24 points in 26 minutes.



Terry Dischinger

: Was the youngest member of the 1960 Olympic team at 19. He is a member of the College Basketball Hall of Fame, playing at Purdue University, where he was first team All American for two consecutive years and set every school scoring record. After graduation he was drafted by the Chicago Zephyrs where he averaged 25.5 points, 8.0 rebounds and 3.1 assists, and was selected as 1963 NBA Rookie of the Year. For his next 3 years he was selected to play in the NBA All Star game. Surprisingly, he left the NBA after those 3 years to fulfill his military service obligation and never returned to the NBA.

The full team: Jay Arnette, Walt Bellamy, Bob Boozer, Terry Dischinger, Burdette Haldorson, Darrall Imhoff, Allen Kelley, Lester Lane, Jerry Lucas, Oscar Robertson, Adrian Smith, and Jerry West. In that group were 4 straight NBA Rookies of the Year – Oscar Robertson in 1961, Walt Bellamy in 1962, Terry Dischinger in 1963 and Jerry Lucas in 1964. The starters achieved such large leads that the substitutes: Arnette, Boozer, Haldorson, Imhoff, Kelley, and Lane played most of the Second Half. Bellamy and Lucas alternated at Center, but with Lucas getting the most playing time.

Oh, and one final note, a player who tried out for, but didn't make that Olympic team was the young John Havlicec, who later became a Boston Celtics legend, still considered one of the best clutch players ever! I don't think there's any doubt that was definitely a team that could give the Dream Team a run for their money!