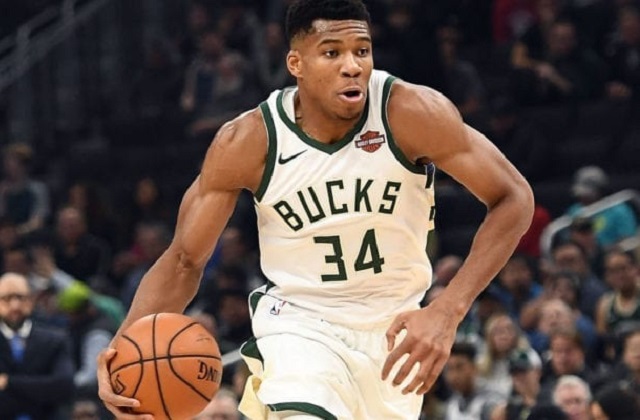 Written by Todd Lewys
12 March 2020
With less than 20 games remaining in the 2019-20 NBA season, teams are either striving to make the playoffs or jockeying for position in their respective conferences.
By this point - with over 60 games played - there's been enough time to get a handle on which teams have the potential to win a championship.
Not surprisingly, several of those teams are led by high-profile duos: the L.A. Lakers by LeBron James and Anthony Davis, the L.A. Clippers by Kawhi Leonard and Paul George and Houston Rockets by James Harden and Russell Westbrook. The Milwaukee Bucks' duo of Giannis Antetokounmpo and Khris Middleton also figure into that elite group.
Of course, there are other less-hyped duos in the mix: Kemba Walker and Jayson Tatum in Boston, Pascal Siakam and Kyle Lowry in Toronto and Philadelphia's Joel Embiid and Ben Simmons. in.
Unquestionably, all seven duos are the driving force behind each team. That said, the key question here is not whether these duos can drive a team to playoff success.
Rather, the question is, how strong are the supporting casts around these stars? Ultimately, that will determine which team will claim the Larry O'Brien NBA Championship Trophy in June.
Let's take a look at each duo:


James Harden & Russell Westbrook, Houston Rockets
To date, Harden and Westbrook are combining for the most per-game points of any tandem with 61.9 points per game (34.4 for Harden, 27.5 for Westbrook).
As impressive as that is, two factors figure to prevent the Rockets from going far in the playoffs: the absence of a bonafide centre to score hard-won points in the paint, and a so-so supporting cast.
Points will be harder to come by when defensive intensity ratchets up come playoff time. Three-pointers will be more highly contested and there will be no easy drives down the lane to the basket. That will make it difficult for Harden and Westbrook to match their regular season production.


LeBron James & Anthony Davis, L.A. Lakers
As hoped, the King and the Brow have meshed beautifully in Lakerland. James is averaging 25.7 PPG, while Davis has been even better, averaging 26.7 PPG. That's good for a combined 53.4 points per game.
Playing point guard, James is distributing the ball in masterful fashion, averaging a league-high 10.6 assists per game and creating over 50 points per game for teammates.
Moreover, both LeBron and Davis are effective both inside or out (LeBron moreso outside). Their supporting cast is good, too, with the likes of Rajon Rondo, Kyle Kuzma, Dwight Howard, Danny Green and Kentavious Caldwell-Pope providing crucial support for their two superstars.
Giannis Antetokounmpo & Khris Middleton, Milwaukee Bucks
The Greek Freak, we all know. But Middleton? He just goes about his business, being quietly lethal. Giannis is averaging 29.6 points per game (no surprise), with Middleton more than chipping in with a solid 21 points on a nightly basis.
Meanwhile, the group of players surrounding the pair - Brook Lopez, George Hill, Eric Bledsoe, and veteran Kyle Korver among others - while relatively anonymous, has been surprisingly productive.
The Bucks are for real with their two superstars, who complement each other well with their power, finesse - and high basketball IQ.


Kawhi Leonard & Paul George, L.A. Clippers
Prior to the start of the season, it was hoped that the Clippers' two prize off-season acquisitions - Leonard and George - would forge a strong chemistry as the 2019-20 season progressed.
They did. As of this writing, Leonard is averaging 26.9 points per game, while George is dropping 21 points per game - a combined total of 47.9 points per game.
Their surrounding cast is a good one, while Leonard brings a huge intangible to the mix - his ability to play air-tight defense while still managing to score key buckets. The Clippers may not be as glamorous as the Lakers, but they may be every bit as good.


Jayson Tatum & Kemba Walker, Boston Celtics
As teams go, the Celtics may be a bit of a sleeper with a 43-21 record. The same goes for their dynamic duo, Jayson Tatum and Kemba Walker.
One of the league's emerging forces at power forward, Tatum is averaging 23.6 points per game, while Walker is draining 21.2 points a night from his point guard post - not too shabby.
With a good supporting cast that includes Gordon Hayward, Marcus Smart and Jaylen Brown, the Celtics have the skill and depth required to make noise in the eastern conference come playoff time.


Pascal Siakam & Kyle Lowry, Toronto Raptors
Many observers removed the Raptors as favourites to repeat as NBA champions after Kawhi Leonard left Toronto to sign with the Clippers.
What they didn't count on was the emergence of power forward Pascal Siakam, the NBA's most-improved player in 2018-19. He's averaged 23.6 points per game, while veteran point guard Kyle Lowry - the Raptors' catalyst - has averaged 19.7 points per contest.
The duo is also surrounded by a deep, talented supporting cast that includes guard Fred VanVleet, guard Norman Powell, forward/centre Serge Ibaka, centre Marc Gasol and a host of talented young players that can come off the bench to produce at any given time.


What's the main thought here? While it's great to have a dynamic duo on your team, they must be complemented by a solid, if not dynamic supporting cast.
All the duos - and, by extension, teams on this list - have the potential to hold the Larry O'Brien NBA Championship Trophy at season's end.
The team that emerges as champions will have been driven to those heights by their two best players - with a lot of help from the supporting cast that performs best when it counts most.