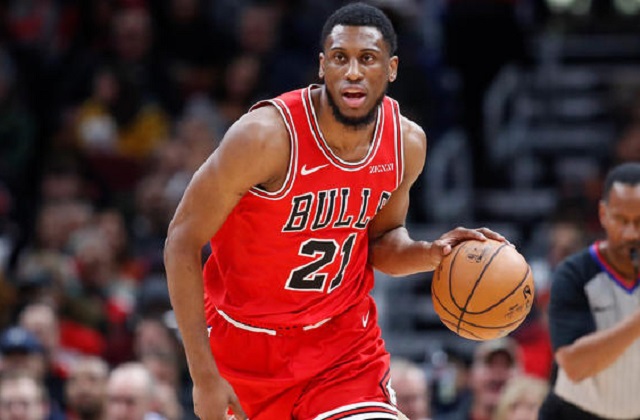 Written by Willard Simms
26 January 2020
Basketball fortune is a funny thing, and quite unpredictable. Sometimes bad fortune for an NBA team can be turned into good fortune for a fantasy basketball team. Case in point – the Chicago Bulls. The Bulls have run into a horrific streak of bad "big man luck". First they lost their starting Center, Wendell Carter, to an ankle injury and he's projected to be out for over a month. Then they lost their backup Center, Daniel Gafford, to a dislocated right thumb that will keep him out at least 3 weeks. Then this week they lost their starting power forward and number 2 backup Center Lauri Markanen for at least 6 weeks. A very large black cat seems to have crossed the Bulls path.

But, for a fantasy owner, some backups that were mired deep within the waiver wire pool will be now rising to the top. Thaddeus Young (48% owned) of the Bulls is at the top of that list. Barely owned in a third of fantasy leagues a week ago, he's being picked up fast now. True, he's not a real Center, but he's going to be playing Center and Power Forward for as many minutes as he can handle. And when Young gets minutes, he gets stats - like against the Sacramento Kings on Friday, where he had 10 points, eight rebounds, two assists, one steal, one block and only one turnover in 29 minutes. I expect him to average over 30 minutes a game for at least the next three weeks, since the Bulls will be forced to play him at two positions. Grab him quick, because he's now the hottest waiver pickup!

Kris Dunn (35% owned) isn't a Center or even a Power Forward. But he's been playing minutes at forward for the Bulls as well as guard since the Wendell Carter injury, and he'll be playing even more now, with the two newest injuries. In his last 4 games he's averaged over 30 minutes a game, and put up very respectable numbers. He's been one of the league leaders in Steals all season, averaging over 2 a game, but in his last 4 games he's averaged 12 points, along with 5 rebounds, and 4 assists. Once the Bulls top three Bigs come back, Dunn will be a strong drop candidate, but for now his role is only going to increase, and a savvy fantasy manager can take advantage of that. The Bulls will play 4 games this week, so getting these two Chicago players might really add to your totals!

Now if we switch our attention to the Philadelphia 76ers, we find another situation with multiple injuries. With starter Josh Richardson out, Furkan Korkmaz (7% owned), a First Round Philadelphia draft pick out of Turkey, will finally be able to get some decent playing time. Korkmaz is a three point specialist who hasn't offered much else due to his limited playing time, less than 16 minutes a game. But his shooting is desperately needed now, since the 76ers leading scorer Joel Embiid is also injured. And as a result all his numbers are going up. In his last game against the Toronto Raptors, Korkmaz scored 17 points on 6-of-13 shooting, grabbed two rebounds, and had two blocks and four 3-pointers in 27 minutes. Yes, this is another short term grab, but it could help you move up the standings, so why not give it a shot?