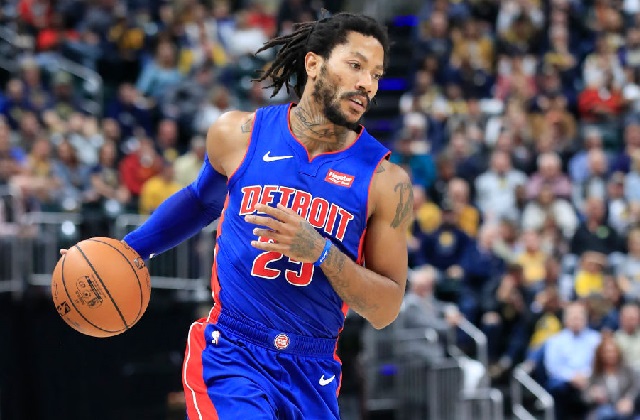 Written by Willard Simms
10 December 2019
Gordon Hayward (88% owned) is back and playing for the Celtics again! The former All Star has gotten the okay to resume full basketball activities, and Hayward is a player who help fantasy owners in a multiplicity of categories. In the NBA season before a serious knee injury sidelined him for a year, He averaged 22 points a game, 2 three pointers, 5.5 rebounds, 3.5 assists, and a steal a game. You probably won't find him on your league's waiver wire, but this is an excellent time to put out some trade offers. The injury that sidelined him this time was to his non-shooting hand, and he should regain his fabulous abilities in a matter of weeks. Try to get him now, before he reminds owners that he's an All Star!
Derrick Rose (78% owned) of the Detroit Pistons has regained much of his old great form, and is now the Pistons go to guy in crunch time at the close of games. For two straight nights, Rose had clinching scores in the final seconds of Piston games. On Dec. 9th he hit a game winning off balance jump shot right at the final buzzer, after already scoring 15 points in the fourth quarter. He finished the day with 21 points and seven assists off the bench while shooting 9-of-17 from the field. He's going to be getting more and more minutes now, and will soon be an untouchable trade for many owners, so try to get him quick if you can!
Ja Morant (92% owned) of the Memphis Grizzlies was said to be out with back spasms that should keep him on the sidelines on a "week to week" basis. Apparently, that meant only one week of the "week to weeks", because he just played 29 minutes of the Grizzlies game on Dec. 9th, and seemed to be back at the top of his game, scoring 26 points, shooting field goals at over 50%, while also getting 7 assists and a steal. He's been averaging 29 minutes a game, and I expect that number to steadily increase as the season progresses. Morant is the leading candidate for "rookie of the year" and is only going to get better as the season moves along. The tiny window to get him in a trade will soon be slammed shut – so if you want to make a move for him, now is the time to do it!