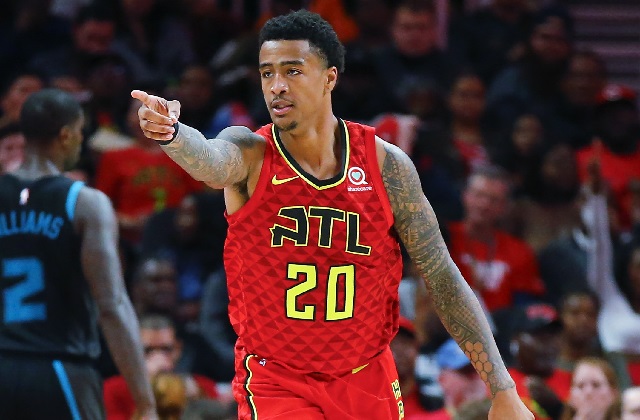 Written by Willard Simms

03 December 2019

There are three players who haven't been fully available to play for their respective NBA teams because of injuries or suspensions. That means they haven't been playing for their fantasy teams either. Perhaps their fantasy owners have grown tired of waiting, and seeing the losses mount up because of these players absence. And that makes this a very good time to try to pry them away with the right trade offer, or to claim them off the waiver wire.

John Collins (90% owned) of the Atlanta Hawks was hit with a 25-game suspension for violating the NBA substance abuse policy. He's now has only eight games of that suspension left. Before the suspension Collins was averaging 17 points and shooting at a .525 % field goal rate, while getting 9 rebounds and 2 blocks a game. He's improved his averages both past years that he's been in the league, and this year has developed a special chemistry with point guard Trae Young. I believe he has the potential to be a top-10 fantasy player once he's reinstated in the lineup. He could now be a "buy low" candidate from an owner who is losing games because of his absence, but you won't get him for a cheap offer. The key is to make some kind of respectable offer and try to get into negotiations for him. Fantasy is about having fun and trying to get someone like John Collins to improve your team is the best kind of fun to have!

The other player serving a 25-game suspension, Phoenix Suns Deandre Ayton (93% owned), won't return from his suspension until Dec. 17th. This is only Ayton's second year in the league, so there's less material available to judge his future by. But he was the Number One Draft Pick in the 2018 NBA Draft, and in last years' rookie season, he averaged over 16 points, 10 rebounds, and a block a game. He's another "buy low" quality player who you might be able to get from a frustrated owner not willing to spend the next three weeks losing games because he's missing one of the center pieces of his fantasy franchise.



The Charlotte Hornets Cody Zeller (47% owned) was playing well to start the NBA Season, and then his numbers began to diminish and fantasy teams began dropping him. We now know that he was playing through a hip injury, and that's why he averaged only 18 minutes a game in his last three games. He probably shouldn't have been playing at all, because he looked stiff on the court, and struggled on defense. But word is that giving him diminished playing time provided him the opportunity to heal, and he's now expected to start for the Hornets again. When he gets more than 25 minutes a game he averages over 12 points and 8 rebounds a game, while shooting better than 50% from the field. Yes, those aren't John Collins like numbers, but I'm recommending picking up a player from the now bare bones cupboard of the waiver wire here. In other words, if you need rebounds and a good shooting percentage, Zeller can definitely help your team.