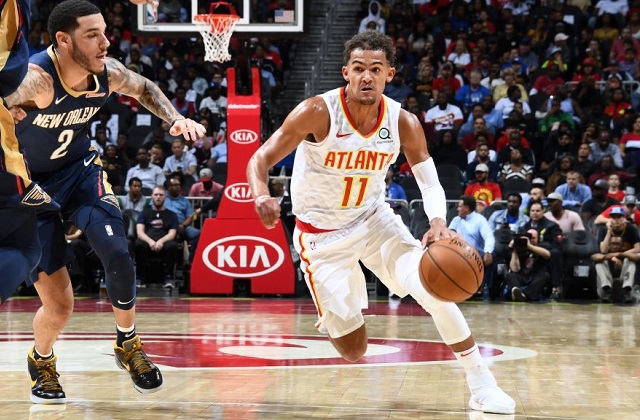 Written by Willard Simms
26 October 2019
So it was the best of times and the worst of times for the opening of the NBA season! The few games that have been played so far showed some amazing performances by fantasy ballers, and a major suspension to the Phoenix Suns Deandre Ayton that will keep him from playing in the next 25 games!
If you drafted Trae Young you know his opening stat line: 38 points (11-21 FG), 7 rebounds, 9 assists, 5 three pointers. I expect him to get a massive amount of fantasy points all season – especially since the Hawks coaches are expecting great things for Atlanta's rising star! If you don't have him, now is the time to send out some trade offers, hoping some fantasy owners' might think what he did was just an opening night fluke (I don't)! Giannis Antetokounmpo also put up some fabulous numbers too: 30 points (11-17 FG), 13 rebounds, 11 assists, 1 steal, and 1 block. But nobody is going to trade Giannis unless you basically offer them your whole team!
If you drafted Deandre Ayton you need to make a trade or try to get someone off the waiver wire that will keep you competitive during his suspension. The first place to look is at the roster of Ayton's own Phoenix Suns. Kelly Oubre hit 8-of-17 shots with one three pointer, scoring 21 points, along with nine rebounds, two blocks, one assist and one steal. He'll have to pick up much of the scoring burden now that Ayton will be missing for 25 games. Oubre is also a slasher, and the middle should be more available for him without Ayton camped out there.
With the injury to the Sacramento Kings Marvin Bagley sidelining him for at least a month, Bagley's teammate, the Kings center Dewayne Dedmon, will be expected to pick up much of the scoring, and also will have less competition for rebounds from his own teammate. And you can also expect Dedmon to play more minutes in Marvin Bagley's absence.
Now let's look at a couple rookie players who soared to unexpected heights in their opening games. These two players are "must adds" – you've got to pick them up on the waiver wire if they're available. Yes, it's still possible P. J. Washington or Kendrick Nunn might still be added to your fantasy team! Both players were rarely drafted in most fantasy leagues, yet both players had huge opening nights. Nunn had 24 points, two boards, three dimes, two steals and a three pointer. He also showed amazing speed bringing the ball up the court and it looks like few opposing guards will be able to stay with him on fast breaks. Washington made seven 3-pointers, the most ever in an NBA debut, and scored 27 points with four rebounds, one assist, one steal and one block. At 6 feet 8, he's able to shoot threes over smaller perimeter defenders, and has a very polished all-around game that will only get better. Either of these players will be a bargain basement steal!