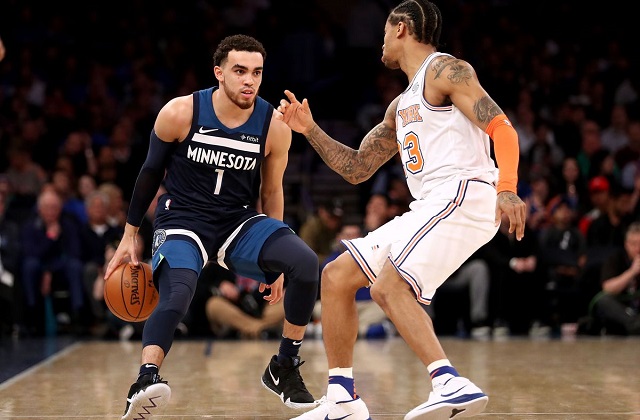 Written by Willard Simms
20 March 2019
So we're now in the time of the NBA Season when teams are tanking so they'll have the best opportunity to draft a future star. Today I'm offering two sets of "twins" (meaning two players from the same team) who can really help your team as a result of the end-of-season changes.
From the Minnesota Timberwolves, take a look at Tyus Jones and Josh Okogie. Both players are getting far more minutes than they got during the earlier part of the year, and they're both scoring in several different categories. In three games, against Utah, Denver, and New York – Tyus Jones scored 41 points, with14 assists and 4 steals. He's gone from averaging under 20 minutes a game to well over 30 minutes. It looks like he'll be playing a lot down the home stretch, and while he'll never be a star player, he can provide you with some good stats that you would ordinarily get from one of the star players on your team, who is being rested for the playoffs. And Josh Okogie, the Wolves nifty Nigerian, just lit up the stat sheet in his last two games - scoring 40 points, with 9 rebounds and 4 steals. He had only been averaging 20 minutes on the floor up until now, but with the injuries Minnesota has had, both he and Jones should be averaging over 36 minutes a game the rest of the way.
And here are two more: In his last game for the Los Angeles Lakers, Kentavious Caldwell-Pope scored 35 points while shooting a solid 60% from the field. He hit an incredible 8 three-pointers, while also registering 2 steals and a block. Without LeBron James and with Josh Hart injured, the steadying hand of Caldwell-Pope should earn him at least 30 minutes per game for the rest of the season. His teammate Alex Caruso, in recent games against New York, Detroit, and Toronto, averaged 15 points a game, 4 rebounds, 3 assists, and nearly 3 steals. Luke Walton has said he likes to play Caruso alongside Rajon Rondo, so Caruso also looks like a player who'll give you good stats down the home stretch. While these players may be inconsistent, it's a lot better than having the consistency of a player who never gets into the game, and consequently doesn't help you in any category. This is "winning time", as Magic Johnson used to say, and to take home that pot of gold at the end of the rainbow, you'll need to take a few chances and hope for the luck of the Irish!