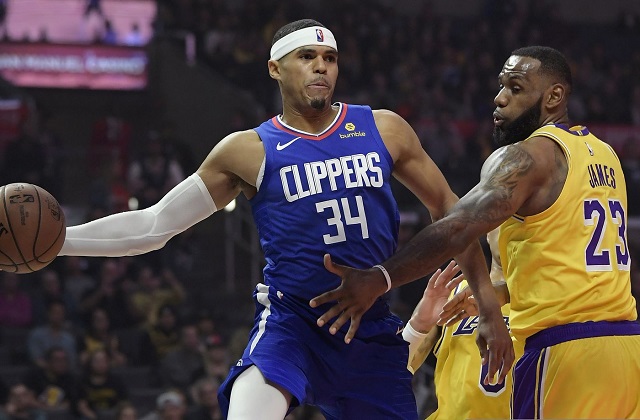 Written by Willard Simms
07 February 2019
No, don't trade Tobias Harris because he was snubbed for the NBA All Star game. While his play this year merited a substitute role on the 2019 team, he didn't get it - but he got something better! A trip to the East Coast to play on a team, the Philadelphia 76ers, that has a legitimate shot to make it all the way to the NBA Finals. But they won't make it if Harris is their "go to guy" the way he was with the Los Angeles Clippers. In what turned out to be his last game with the Clippers, he scored 34 points and hit 6 out of 7 three pointers, one of which came at the close of the fourth quarter and won the Clippers the game!

In Philadelphia it will be a different story, he'll only be the number three option, behind Joel Embiid and Jimmy Butler. So he won't have as many plays called for him, and his team mates won't be looking to find him in the Fourth Quarter. That's when Embiid will be demanding the ball, which will most likely be in the hands of Jimmy Butler. And also on the court, there's J.J. Redick, one of the best three point shooters in the league, and Ben Simmons, who has the ability to post up opposing guards seemingly half his size. So while Harris will be totaling more team wins, it will be with less gaudy fantasy statistics.
Build the best lineups with the power of The Machine for Daily Fantasy Sports  

In his last 3 games, Harris had games of 7, 13, and 34 points. Even in Los Angeles, when his team mates didn't look for him, or run screens for him, he didn't score as much. And his rebound numbers will also drop, because Embiid is a rebounding beast who is a rock solid 7 footer that knows how to get position under the basket as well as anyone playing right now. And Harris will have to deal with Embiid every single night! So while Harris will still be an All Star caliber player, he simply won't have the same "lead dog" role that he had with the Clippers. Right now, Harris is a top 25 fantasy player in both Yahoo and ESPN leagues. But I seriously doubt that will last after he moves to the Philadelphia 76ers. So, trade him away now, before it becomes apparent that Harris has sacrificed individual stats for winning!
Never miss ASL's latest fantasy sports news.
Send us an email at This email address is being protected from spambots. You need JavaScript enabled to view it. and list the sports you are interested in (NFL, NBA, MLB, NHL) to start receiving ASL's newsletter.