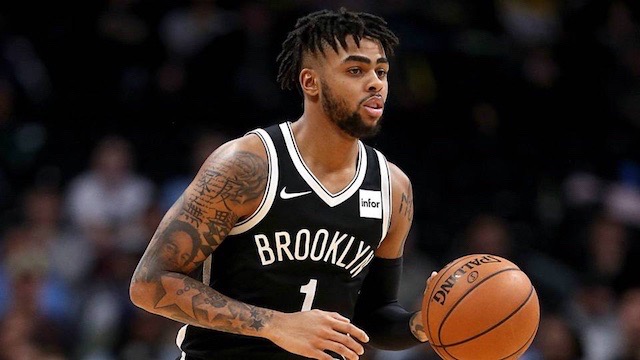 Written by Willard Simms
31 January 2019
D'Angelo Russell (ONLY 91% owned in Yahoo leagues) can NOT be ignored any longer. He's almost single handedly making up for the loss of the Brooklyn Nets Sixth Man of the Year candidate – Spencer Dinwiddie. Dinwiddie was a spark off the bench in the fourth quarter for the Nets until he went down recently with an injury.  Since then Russell has made a point of taking over the Nets leading man role in the fourth quarter.
Build the best lineups with the power of The Machine for Daily Fantasy Sports  
And as a result, his fantasy averages have exploded – to the tune of an average 27 points per game, while sinking 26 three pointers, handing out an average of 7 dimes in those 6 games, and all the while shooting 49% from the field and over 90% from the free throw line! 
It's taken some time for the Los Angeles Lakers Number Two pick in the 2015 draft to find himself, but now that he has, the Brooklyn Nets have suddenly put themselves in playoff contention with their 22 year old guard! Coach Kenny Atkinson loves him, and Russell has now clearly established himself as the future of the Nets and his second half could be even better. The Nets aren't the kind of team that blows anyone out, so you won't see him sitting out the entire fourth quarter like Steph Curry of the Warriors.
It will be tough to find him on the waiver wire, so you will have to figure out a way to trade for him. You're talking about a player who has moved into the top 20 fantasy players list over the most recent series of games, so don't assume someone in your league will part with him easily.  But to get a player who can improve your team in 5 different categories is a fantasy opportunity that doesn't come around very often.  Take it!
Never miss ASL's latest fantasy sports news.
Send us an email at This email address is being protected from spambots. You need JavaScript enabled to view it. and list the sports you are interested in (NFL, NBA, MLB, NHL) to start receiving ASL's newsletter.