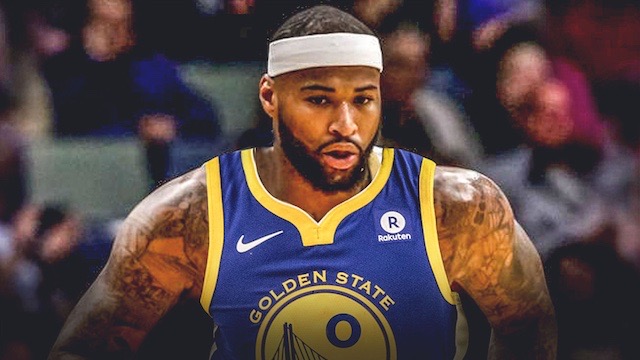 Written by Willard Simms
23 January 2019
After a long injury layoff, Demarcus Cousins is back on the court, except now he's playing for the Golden State Warriors. Cousins was the man in New Orleans before his injury because he stuffed the stat sheet on a nightly basis for five NBA seasons averaging more than 25 points, 12 boards, 1.5 blocks and even 4 assists per game. 
Build the best lineups with the power of The Machine for Daily Fantasy Sports
Will he achieve those kinds of numbers again?  No, that type of production won't be needed with the Golden State Warriors - I mean they already have four All Stars on their world championship team!  So why would I suggest that you trade for him, knowing that the only way to get him is to give up a lot?!  Well, for the very reason I just mentioned – because he won't be the DeMarcus of old at first, so he might be a buy low candidate. And you never know if you don't try.
So, let's first look at the negatives.  When the Warriors will really need Cousins is during the Playoffs. Consequently, his minutes won't be great during the Regular Season, because the Warriors will want to keep him fresh and make sure he avoids any kind of injury.  And with three of the greatest shooters in the history of basketball on the team, he won't be the dominant scorer he was in the past.  In fact on some possessions he might not even touch the ball.  Also in his first few weeks back in action, he won't be playing in the second game of back-to-backs.
And then of course there's his history with team chemistry. We all know his penchant for on court tantrums and picking up technical fouls and missing games because of it. NBA writer Sam Smith has said "He's just too angry. He's like the person you know who comes to work mad every day, yelling at people, sulking, and everyone just freezes." 
But on the positive side, when most people think of Cousins, they think of his scoring and rebounding. But those 4 assists a game?  That's only going to increase, as he's an excellent passer and has great shooters to get the ball to when he's double teamed.  Plus, he's more than capable of throwing full court passes to streaking Warriors breaking down court after he gets a rebound - and his new team plays at one of the fastest paces in the League.  So even though he won't be playing as many minutes, I expect his rebounding numbers to remain about the same as before, because his size makes him a very difficult player to box out, and he should thrive in getting offensive rebounds on his new team.
Also, after a very early look at him in game action, he seems to have added a solid three point shot to his repertoire. The Warriors shoot a lot of three pointers, and Cousins can easily slip from under the basket into one of the corners to shoot threes. Are other teams really going to take a player off Curry, Durant, or Thompson to guard DeMarcus Cousins on a three point shot? They could also be watching him get the ball right back to one of those players for a wide open look. 
Finally, yes, Cousins comes with anger issues, but the Warriors philosophy is to play with joy – not anger.   They love to joke around with each other and support one another, no matter who's playing.  Cousins is known for his sense of humor, and he'll fit right in with this group. Also, don't forget he's been playing for losing teams, and it's much easier to avoid frustration when you're winning!
All in all, to be a truly dominant player in fantasy, "Cousins on the Warriors" will just have to learn his new role, and when he does, even on a minutes restriction, and a back to back restriction, he'll be a monster!  Offer a trade for him right away, because he'll be learning his role, and also be playing his way back into shape in his first several weeks back on the court.  But once Fantasy Playoffs roll around, he should be playing more minutes, and also staying in the starting lineup for back to backs. And that could make a huge difference in your Playoff games!
Never miss ASL's latest fantasy sports news.
Send us an email at This email address is being protected from spambots. You need JavaScript enabled to view it. and list the sports you are interested in (NFL, NBA, MLB, NHL) to start receiving ASL's newsletter.