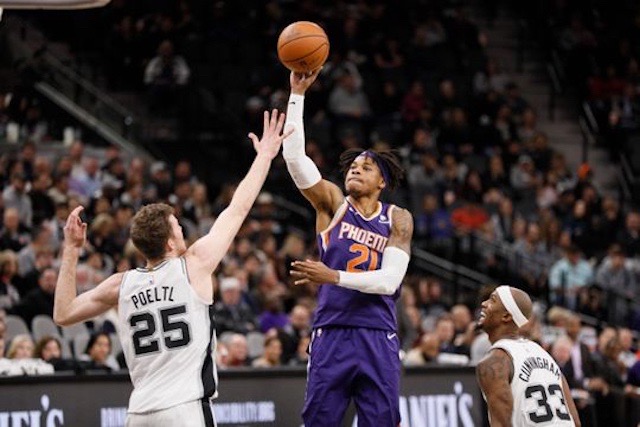 Written by Willard Simms
18 January 2019
With only 11 wins since the start of the season, the Suns can experiment with any lineup they want before they clean house at the end of the year. When Richaun Holmes (owned in 18% of ESPN leagues) has gotten any opportunity to play this season, he's put up some excellent per minute fantasy stats. 
During his last 7 games, he's averaged 14 points a game, with 1 block, 5 rebounds, and a field goal percentage over 70%. And that's while averaging less than 20 minutes a game!
Build the best lineups with the power of The Machine for Daily Fantasy Sports
One of the lineups the Suns have been tinkering with is pairing up Holmes with another big man, rookie sensation Deandre Ayton. When these two players are on the floor together, Holmes lights it up. 
Just after the All-Star break last year, Holmes was a top-40 fantasy producer, averaging 13.6 points, 6.9 rebounds, 1.2 blocks and 1.0 steals in around 28 minutes per game.  It's not inconceivable he could start posting numbers like that for the rest of the season. In fact, if Ayton went down for any period of time, Holmes could become a major fantasy contributor. 
Holmes is a player that's readily available on the waiver wire, commits less than 1 turnover a game, and shoots free throws at 75%. He doesn't hurt you in any category, so if you have any slackers, or high turnover players that are costing you in the standings, I strongly suggest adding Richaun Holmes to your team.
Never miss ASL's latest fantasy sports news.
Send us an email at This email address is being protected from spambots. You need JavaScript enabled to view it. and list the sports you are interested in (NFL, NBA, MLB, NHL) to start receiving ASL's newsletter.