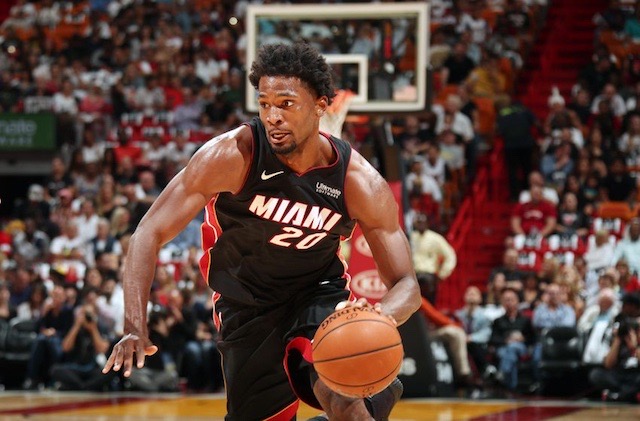 Written by Willard Simms
16 January 2019
Fantasy waiver wire pickings have grown very thin as the season has progressed.  Yes, you want to improve your team by adding players who will help you for the rest of the season, but you'll have to drop a player to make room on your roster.  So, let's do a "True or False" on players we're considering adding or dropping.
Justice Winslow (62% owned on ESPN) should be added. True! Winslow has recently carved out a solid place for himself in the Miami Heat rotation, averaging more than 30 minutes per game in the last five contests. In that span, he's been shooting field goals at almost 50%, while averaging 6 rebounds, one 3-pointer, and a noteworthy 7 assists per game.  His minutes will only increase from here, as he's also been scoring an average of 17 points over his last 10 games.
Build the best lineups with the power of The Machine for Daily Fantasy Sports
Derrick White (10% owned on ESPN) should be added. True!  In his last six games he's averaging close to 20 points a game, while collecting 4 assists a game, and hitting 16 out of 18 free throws.  To quote Yahoo Sports:  "White has been a top-25 player in nine-category Yahoo Leagues in his last 10 outings." Go get him!
Spencer Dinwiddie (47% owned on ESPN) should be dropped. False! Even though Dinwiddie ranks near the top of Dropped Players on ESPN, fantasy owners must be forgetting that Dinwiddie is a streaky player.  Yes, his scoring has fallen off a cliff over his last 4 games!  His field goal percentage is under 40%, and he's averaging just over a mere 10 points a game.  But it wasn't that long ago he had back to back games of 37 and 24 points, while averaging  9 assists each time out.  Keep Dinwiddie!
J.J. Barea (12% owned on ESPN) should be dropped. True. Barea was having one of the best seasons of his long career, and was a key part of the Dallas Mavericks rotation.  He was averaging 11 points, 6 assists, and one 3 pointer a game.   But sadly, he's out for the season with a torn right Achilles tendon.  Consequently he should be dropped immediately.
Emmanuel Mudiay (14% owned on ESPN) should be dropped. False! The New York Knicks rotations are a mess, and you never know who's going to spend the most time on the court, especially at their Guard position. And Kevin Knox often brings the ball up court after he collects a rebound, which cuts down on Mudiay's opportunity to collect assists.  But in his last two games Mudiay has scored 21 and 19 points.  And in those games, he shot over 40% from the field, and 100% from the free throw line, while hitting four 3 pointers and still getting assists. Yes, he has some bad games, but in the long run his good streaks and bad streaks average out.  Don't drop him.
Never miss ASL's latest fantasy sports news.
Send us an email at This email address is being protected from spambots. You need JavaScript enabled to view it. and list the sports you are interested in (NFL, NBA, MLB, NHL) to start receiving ASL's newsletter.