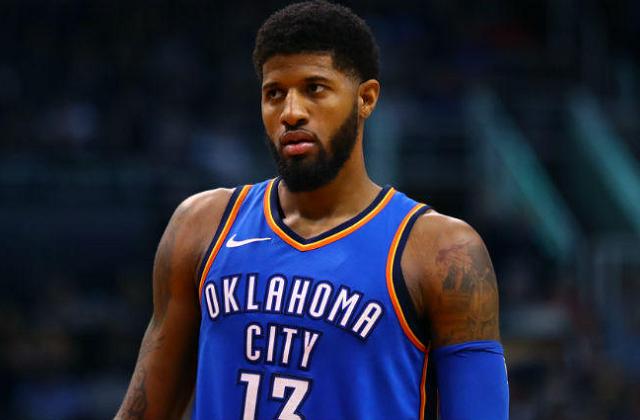 Written by Willard Simms
10 January 2019
Oklahoma City is finally moving away from being just "The Russell Westbrook Show."
Westbrook's shooting has fallen off the chart, both in field goals and at the free throw line. It's taken a while for Paul George to become the main scorer for the Thunder, but he's there now.  Westbrook has decided not to keep firing away from distance so much, and has become more of a drive and kick player, and the favorite player he gets the ball to is George. 
Build the best lineups with the power of The Machine for Daily Fantasy Sports
Westbrook is feeding George as they run up the court on breaks, and waits for George to run around screens to get open for set plays, which allow him to fire up three pointers, especially when Westbrook is being double teamed.
As a result, George has averaged over 30 points during his last 4 games, getting an average of seven rebounds, four 3 pointers, and three assists per game. He's also second in the league in steals, and has a free throw percentage of 82.5. 
Now is the time to pick up George in a trade! He's only going to get better, as the Thunder will rely on him more and more in the fourth quarter of tight games. Someone has to carry the offensive load for the Thunder, and George, who is headed for the All Star game again, figures to become even more dominant as the season progresses. 
He won't come cheap in a trade, but while Russell Westbrook kills you in the fantasy percentage categories, George is solid with his field goal accuracy and rock solid as one of the best free throw shooters in the league! I would even consider a two for one swap if you need to, as you'll be hard pressed to find two players who can contribute to your team in so many different categories. If you can get him, Paul George is a no-brainer for your fantasy squad.
Never miss ASL's latest fantasy sports news. Send us an email at This email address is being protected from spambots. You need JavaScript enabled to view it.and list the sports you are interested in (NFL, NBA, MLB, NHL) to start receiving ASL's newsletter.