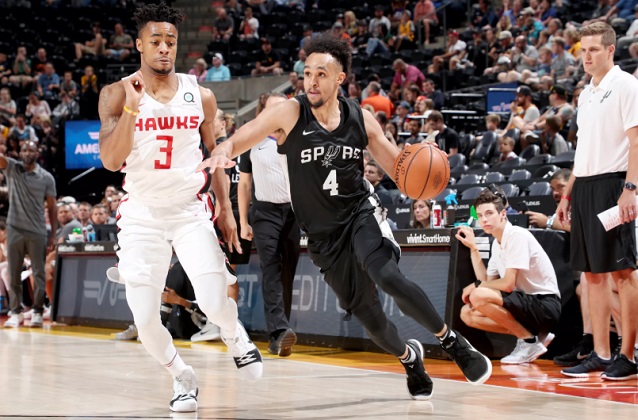 Written by Willard Simms
08 January 2019
NBA teams are being hit with a rash of injuries, and that's a part of the game that fantasy team managers must pay close attention to.  You need to get the injured players out of your starting lineup, and find some players who will benefit from increased playing time either because of injuries Faugor because they've recently started to put up excellent stats! 
Robert Covington has been a top 75 fantasy player all season, but he's out indefinitely with a bone bruise.  I don't expect anyone on the Timberwolves to put up similar numbers, but there are players on other NBA teams who can come close.  Covington has a versatile game that helped fantasy owners in a variety of categories, but especially steals. The four players below share a similar skill set.
San Antonio guard Derrick White has really turned up his game as of late. He's putting up a fine set of fantasy stats, with numbers that easily place him in the top 75.  Covington was one of the league leaders in steals, and over the last 14 days, White is among the top 10 players in steals.  Steals are an often overlooked stat, so if you had Covington on your roster, you won't find a better replacement than White, in fact White is an excellent replacement for any injured player!
Build the best lineups with the power of The Machine for Daily Fantasy Sports.
With LeBron James out for a while, Josh Hart has become a real force for the Purple and Gold. During his last four games, he's had two double-doubles and is averaging 9 boards per contest. For right now, he's a real multi-category fantasy player, and in his last 7 games he's averaged more than two steals a game. He's still on many waiver wires, and is a solid addition to help any team move up the ladder.
Marcus Smart of the Boston Celtics is back to getting steady minutes with the team, and he is another player who has a multi-faceted game.  He doesn't score a lot of points, but his value lies in other areas, and like Covington, he's especially good with assists and steals.  He's averaging 1.8 steals per games this season and is averaging more than 2 steals per game during his last ten. If he's on your waiver wire, go get him!
D. J. Augustin is the on-court-quarterback of the Orlando Magic, and is the best on the team at getting the ball to Nikola Vucevic, who as a result, is having a career year! The Magic are still in the playoff mix and Orlando coach Steve Clifford is one of Augustin's biggest fans, so his role on the team is locked in. Augustin has kicked around the league some, playing for several different teams, but he's been given the chance to prove himself with the Magic, and is leading them back toward playoff relevance. He's another solid all-around player who can help in several categories, and on top of averaging a steal a game, he's a 90% free throw shooter!
Never miss ASL's latest fantasy sports news. Send us an email at This email address is being protected from spambots. You need JavaScript enabled to view it. and list the sports you are interested in (NFL, NBA, MLB, NHL) to start receiving ASL's newsletter.