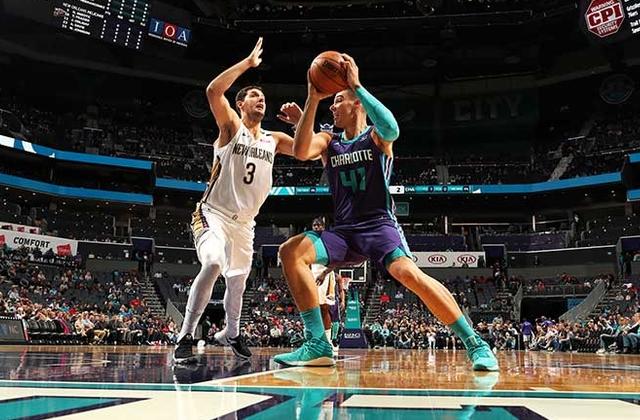 Written by Willard Simms
05 January 2019
Injury creates opportunity for NBA fantasy players, but only if you act quickly and don't mind taking on a little risk. Hornets center Willy Hernangomez and Wizards guard Tomas Satoransky should be picked up off the waiver, or even traded for, as soon as possible, before the fantasy basketball spotlight begins to shine on them.
Build the best lineups with the power of The Machine for Daily Fantasy Sports.
Hornets center Cody Zeller had surgery earlier this week to repair his broken right hand and is out for at least a month and probably longer and this out Willy Hernangomez into the the starting role for Charlotte. Willy and his brother Juancho are basketball playing brothers from Spain, much like Pau and Mark Gasol. They also play the forward and center positions like the Gasols.  
Willy has sports in his blood, his mother was an Olympic athlete for Spain. He's a player who won't fold under the pressure of being thrust into a starting gig, and should be able to help fantasy teams in three categories, scoring, rebounds, and blocks.
Willy has kicked around the league, the Hornets are his third team in the last few years. But when he has gotten the opportunity to play extended minutes, he's come through with big numbers, and, in his first start as the new Hornets Center, he scored over 30 points and had double digit rebounds. His scoring can be very erratic, but he is a sure bet for boards and blocks on a nightly basis. 
Tomas Satoransky of the Washington Wizards will take over the point guard position for the rest of the season after John Wall was place on Injured Reserve. Every time he's replaced Wall in the past, he's put up top 100 fantasy numbers.  He scored over 15 points a game, and had an average of at least 5 assists.  Now that the starting job is his for the rest of the season, I expect him to do even better. This will be Satoransky's team to run now, and the coaching staff will have to focus the offense more on his individual abilities. 
The Wizards will need to be a team that moves the ball around a lot, making multiple passes and not rely on a penetrating flash like Wall, who brought the ball up court as fast as anyone in the league.  Set plays and pick and rolls will now be the order of the day now.  And Satoransky is a European player who happens to be excellent as a facilitator and mid range shot maker, will fit that bill perfectly.
Never miss ASL's latest fantasy sports news. Send us an email at This email address is being protected from spambots. You need JavaScript enabled to view it. and list the sports you are interested in (NFL, NBA, MLB, NHL) to start receiving ASL's newsletter.