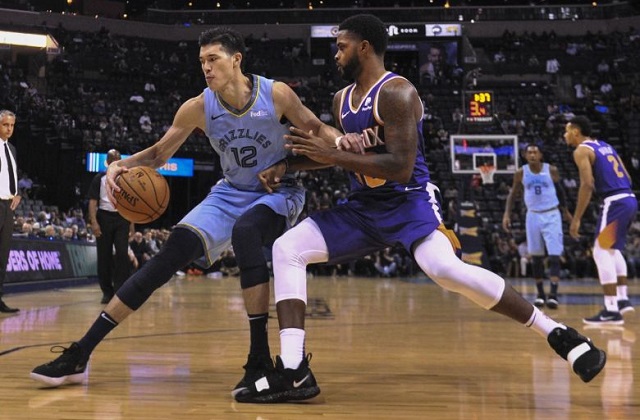 Written by JBanner
04 January 2019
When Yuta Watanabe played for the Memphis Grizzlies in their October 27 game against the Phoenix Suns, he made history as he became only the second Japanese born player to play in an official NBA game. As fate would have it, Watanabe accomplished his feat against the Suns, the same team that employed Yuta Tabuse, Japan's first ever import to the world's premier basketball league.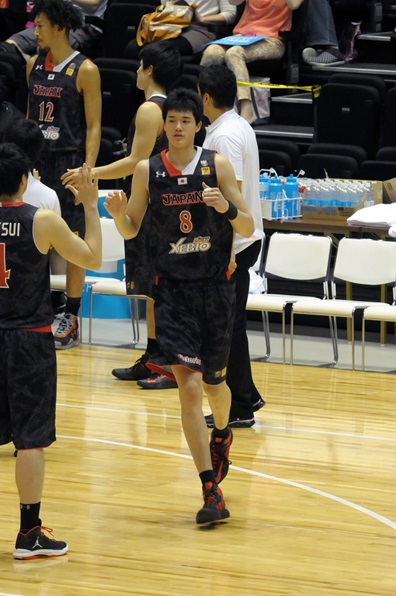 IMAGE CREDIT: Wikipedia
Watanabe donning his national team jersey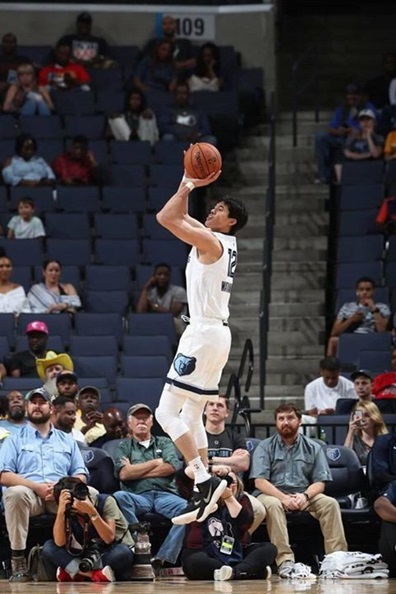 IMAGE CREDIT: Pinterest
Watanabe pulls up for a jumper

In the here and now, however, the former ESPN three-star prospect needs to work his way up the Grizzlies depth chart. Watanabe has played only two games for the Grit-and-grind Grizz — his debut against the Suns (5 minutes, 2 points, and 2 rebounds) and a November 14 game versus the Milwaukee Bucks (8 minutes, 2 rebounds, and 1 block). In the case of Watanabe, however, numbers don't exactly tell the whole story. Yes, he may not be playing much so far this season, which means he has very little fantasy value, but the Grizzlies look to be playing the long view approach with their Japanese import. The fact that the 6'9 wingman is still on their roster is proof of it, and that's a good enough start for an unheralded but talented prospect.

And keeping Watanabe might just be the right thing to do. Commercial Appeal described Watanabe as "perhaps the most intriguing member of the Grizzlies' training camp roster," blending size and skill in a well-sculpted 6-9 frame. In other words, he fits the bill of a modern NBA big. More than that, however, Watanabe is the rare basketball player whose calling card so to speak is defense, and his Atlantic 10 Defensive Player of the Year award is testament to it. That defense-first ethos alone certainly bodes well for Watanabe, who happens to be on a team that values the grid and the grind of that side of the floor.

Off of pure potential alone, this Japanese import projects to be a Jerami Grant type of player, who in a previous post was pegged by both Yahoo and DraftKings as a top value player for December 15. Grant is obviously playing more minutes for the Oklahoma City Thunder and is making the most out of his opportunities. The 6-9 Grant averages 11.8 points, 4.7 rebounds , 1.1, assists, 1.3 blocks, and 0.8 steals a game, on 50% FG shooting in 30 minutes of action an outing. Given the same minutes in Memphis, there's no reason why Watanabe — arguably a better, more skilled player than Grant — can't produce the same numbers, if not better.

VIDEO: https://www.youtube.com/watch?v=jHEfA8V0uJ8
Watanabe dropping a career high in the G-League

Watanabe, of course, is the latest of a growing line of Japanese athletes making names in the international stage. He has followed in Tabuse's footsteps and is now paving the way for sensational swingman Rui Hachimura of Gonzaga. Watanabe and Hachimura are leading a sort of basketball renaissance in Japan, with the national team on the cusp of qualifying for next year's World Cup, which the country last hosted in 2006.

Japan's sporting heritage is becoming more globally recognized thanks to its basketball stars, and the fact that in the next two years it will host two major international tournaments: the Rugby World Cup and the Olympics. This builds on the legacy of the two Winter Olympics (1972 and 1998) that helped establish the country as one of the top winter sports destinations in the world. In fact, an Expatbets guide to Japan notes that Hokkaido is considered as one of the top places to ski and snowboard in Japan, as well as the world. The area has hosted numerous winter sport competitions, where Japanese ski jumpers Daiki Ito and Noriaki Kasai have had much success. Like Ito and Kasai, Watanabe will have his own shot at global athletic recognition, likely as early as next year with Japan on the cusp of qualifying in the 2019 World Cup. A year later, the 24-year-old forward will likely lead the Japanese national team in Olympic basketball — in his home country no less.

In short, there is cause for optimism here. Again, Watanabe's fantasy value as of today is virtually nil, but the Grizz are thin on the 3 spot, with only the perpetually injured Chandler Parsons, the wildly erratic Kyle Anderson, and the wily veteran Omri Casspi playing ahead of the young Japanese. With continued hard work and a good break here and there, Watanabe has more than enough talent to make an impact for the Grizzlies, and even in someone's fantasy team. He is worth keeping an eye on, as he can be a nice waiver wire pickup later on in the season. If everything falls into place for this young man, he might even be a valuable addition to any fantasy team, one who'll play mistake free basketball and fill the stat sheet, especially with hard-to-record steals and blocks.
Article specially submitted to advancedsportslogic.com
Submitted by: JBanner