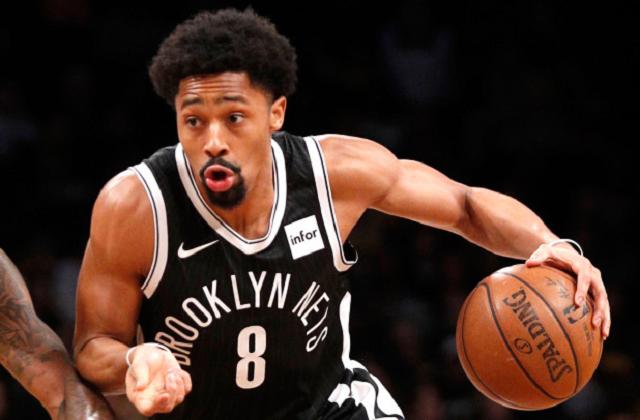 Written by Willard Simms
01 January 2019
Spencer Dinwiddie wasn't expected to get much playing time with the Brooklyn Nets this NBA Season.  During his two previous seasons with the Nets, he averaged less than half game of playing time and was rarely on the court in the fourth quarter of close games. But that's all changed as this young NBA season has progressed.  He's become the Nets "go-to-guy" in the fourth quarter. In fact, he's winning games for them with his last minute shooting heroics, and his teammates now look to get him the ball more and more during crunch time. He almost single handedly beat the Charlotte Hornets on Dec. 26th, scoring 37 points while racking up 11 assists.  The Nets will rely on him heavily for the rest of the season, and I expect him to turn in outstanding fantasy numbers for 2019.
Build the best lineups with the power of The Machine for Daily Fantasy Sports
Buddy Hield really struggled to live up to expectations when the Sacramento Kings drafted him in 2016. But he might be breaking out as the calendar flips to 2019 having averaged five 3-pointers during his last his last ten games while averaging almost 20 points per game on the young season. Add those numbers with his 5.1 rebounds and 2.3 dimes per game and he's demonstrating solid all around fantasy stats. Hield will eventually cool off, but his prospects for increasing his fantasy numbers in 2019 look excellent.
John Collins began the season on the Atlanta Hawks Injured List. He's only been back for 19 games, but he's proving that he belongs on the NBA's Most Improved list.  He's averaging nearly 18 points and more than 10 rebounds a game, which puts him in very elite company, not just in this NBA season, but in any season.  And since he's still rounding into top playing shape, his numbers are only going to improve. The Hawks are currently in "tank" mode, and focused on developing their younger players. The team's main focus right now is giving Collins a long leash to see what he's really capable of, and then the sky could be the limit.
Tobias Harris is one reason the Los Angeles Clippers have vastly exceeded their expectations for the current season. The Clips were supposedly a "starless" team after the departure of Chris Paul and Blake Griffin, but have found a new star in Harris. He's averaging 21 points per game to go along with 8.2 rebounds and almost 3 assists per game.  He's hit as many as six three pointers in a game and is beginning to shoot them more and more. If he keeps up the current pace, his 2019 fantasy numbers look even better than 2018's.
De'Aaron Fox started the season a little slowly, but over his last 9 contests, he's averaging more than 25 points per game, to go along with 9 assists and 3 steals.  The Sacramento Kings offense runs through Fox, he's the one bringing the ball upcourt at breakneck speed, often before the defense can get set.  As a result, the Kings are one of the highest scoring teams in the league, and since their offense often sputters when he's not on the court, he is playing more and more minutes.  I expect his numbers to be even better in 2019 than they were in 2018.
Never miss ASL's latest fantasy sports news. Send us an email at This email address is being protected from spambots. You need JavaScript enabled to view it. and list the sports you are interested in (NFL, NBA, MLB, NHL) to start receiving ASL's newsletter.