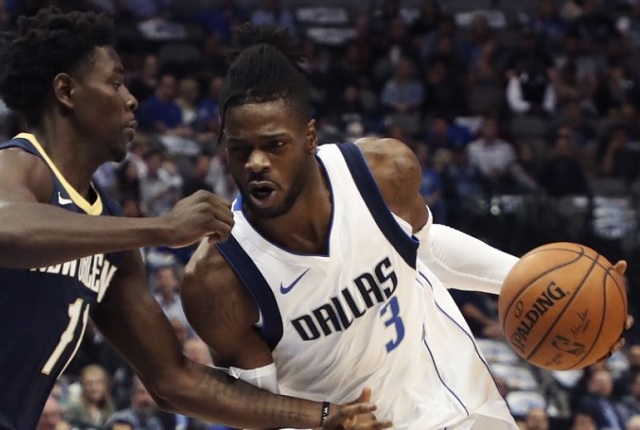 Written by Willard Simms
18 December 2018
The NBA waiver wire is pretty thin this week, but you might be able to get a player that can help you in certain categories where you need a boost.  Or you might get someone who is just beginning to get some playing time after being hidden on the bench during the early season. 
Nerlens Noel.  He doesn't get a lot of on court time, playing behind DeAndre Jordan – but he can still help you in certain areas.  He's been getting at least one block and one steal per game for over two weeks now. Blocks and steals are frequently overlooked categories in fantasy, and adding Noel to your team could possibly put you over the top in those areas, especially if other teams in your league aren't focusing on them.
Build the best lineups with the power of The Machine for Daily Fantasy Sports
Rodions Kurucs.  He's a young European who has been riding the bench for the Brooklyn Nets all season. But now, with several injuries to their front line players, he's gotten two starts in a row. He's been getting 6 rebounds and 1 three pointer a game for the Nets.  He's a very speculative add, because he only has 2 games worth of "Starting" playing time. But, if he can pull his 13 points a game scoring average up and continue with his boards and three pointers, he could turn out to be the difference in some close matchups for your team.
Larry Nance, Jr.  Of course he's getting more playing time with Tristan Thompson injured. Yes, he's only having a slight increase in scoring – but it's in the other categories that his numbers are receiving a significant increase: 6.3 assists, along with 8.3 rebounds, 2.3 steals and 1.3 blocks.  Thompson is set to return in 3 or 4 weeks, but in the meantime Larry Nance Jr. can have a significant impact.
Jordan Bell.   Damian Jones is out for the season, and with Draymond Green not totally at full strength, Bell will be getting a lot more playing time.  He's a good source of block and rebounds, although he doesn't offer much in the other categories.   But blocks are an under rated category in fantasy, there aren't many players on the waiver wire who can help you in this area. With an increase in playing time, and the Golden Gate Warriors playing at a breakneck pace that allows other teams extra possessions, Bell could be a difference maker in these two categories.
Mikal Bridges.  This is a player who's been up and down more than an elevator in an overcrowded high rise. But now that Trevor Ariza has been traded from the Phoenix Suns, he should get a significant increase in playing time.  I say "should", because the Suns did get Kelly Oubre back in the trade, and he does play the same position as Bridges.  And then T. J. Warren, a somewhat ball dominant player, is starting to come one, and the more playing time he gets, the less Bridges will have. So along with the earlier mentioned Rodions Kurucs, this is a speculative add.  But if any of these players have significant playing time in the future, they could be difference makers for your team down the stretch.         
Never miss ASL's latest fantasy sports news. Send us an email at This email address is being protected from spambots. You need JavaScript enabled to view it. and list the sports you are interested in (NFL, NBA, MLB, NHL) to start receiving ASL's newsletter.