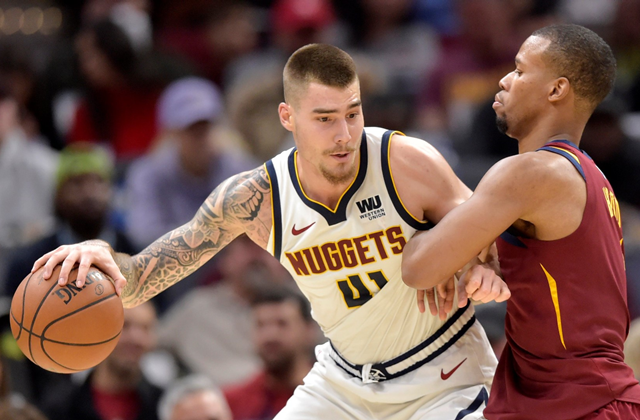 Written by Willard Simms
11 December 2018
We're now a quarter of the way through the NBA basketball season.  You should have a good idea as to the overall makeup of your team, and what needs you'll have for the rest of the season.  Remember that the waiver wire alone won't be enough to make, and/or keep you competitive for the next 4 months.  So, like it or not, you need to think about trades.  I'll mention 5 players who have shown so much in the early season that there's a very good chance they'll be able to bring your team up in the standings.
Juancho Hernangomez was only drafted, if at all, at the very end of most fantasy drafts.  He was a young little known player from Spain who didn't go to an American University. But he's found himself in a very favorable situation, and he's taking full advantage of it. The Denver Nuggets lost guard Gary Harris, small forward Will Barton, and forward Paul Millsap to injuries. Juancho is a very versatile player who is currently playing in all 3 vacated slots for the Nuggets. He's been averaging over 37 minutes a game, hitting multiple 3 pointers a game, collecting lots of rebounds, and even getting some blocks.  To get somebody good you have to trade somebody good. But maybe in your league the "Rise of Juancho" hasn't been noticed as he's only been in the starting lineup for the last 4 weeks.  So make an offer, now!
Build the best lineups with the power of The Machine for Daily Fantasy Sports
De'Aaron Fox is really coming into his own, and as the primary ball handler, he's the unquestioned quarterback of the Sacramento Kings.  He plays at a breakneck pace, which means he gets more possessions than most of the other point guards in the league.  He hits three pointers, gets lots of assists, and as his nickname "swipe" implies, is excellent at getting steals.  If you're in need of a point guard, find out which team he's on in your league, and do your best to get him.
Tobias Harris just completed a down week after being voted Western Conference Player of the Month. His shooting percentages were terrible, and his 3 point shots just weren't going down.   This might be the best time to get him, if you can present a frustrated owner with a good trade offer.  Remember that whoever you're trading with isn't just going to give a player like this away, so go in with a positive looking first offer, and hope that you may get a counter offer back.  If it's at all reasonable, take it!
DeAndre Jordan seems to have put his free throw shooting woes behind him, as until this year he was barely shooting 50% at the line.  But that's gone now, and without that drag on your free throw percentages, he's a player that can almost single handedly win you rebounds and blocks without hurting you in other categories.  If he's on a team that seems weak at the guard position, and you have a top 50 guard or two, I wouldn't hesitate to put them in a trade offer and hope for the best.
Sometimes you can offer to trade for a player who is on another teams Injured List, and is still a ways off from being "playing time" ready.  Owners can get frustrated seeing their team lose because they're missing a key cog who is currently out of the lineup. Kevin Love is still at least a month away from getting on the court again. But when he does come back he'll bring a lot of assets with him. 
He's a very good rebounder, passer, and three point shooter  - that means he can help you in multiple categories.   Think about a player on your roster who's doing exceedingly well now, and take a shot at a trade with that player for Kevin Love. You might get a nibble from someone who's currently worried about making the fantasy playoffs, and the short term gain would be too much to resist.  Again, you never know what you might be able to get until you make a try.
And one last word, as I've mentioned before, be sure to check out the "player ratings" for the league you play in.   You will need to offer someone in a trade who is close to the player or players you're asking for in value, to have any chance of getting a trade made.   Remember that you're trading to make your team better – and whoever you're trying to trade with is after the same thing.  So take the other team's needs into consideration as well as your own.
Never miss ASL's latest fantasy sports news. Send us an email at This email address is being protected from spambots. You need JavaScript enabled to view it. and list the sports you are interested in (NFL, NBA, MLB, NHL) to start receiving ASL's newsletter.