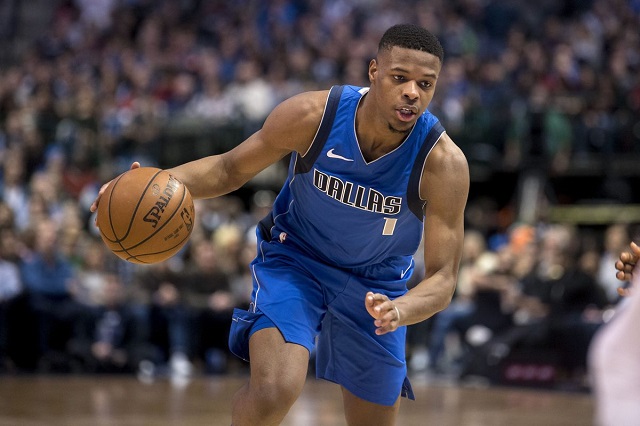 Written by Willard Simms
04 October 2018
Steve Kerr has eight NBA championship rings as a player and as a coach, so when he speaks, I listen. At the Golden State Warriors' media day, Kerr said players usually improve the most between their rookie season and their second season in the league. With that in mind, here are five second-year players who are liable to have such a breakout this season.
PG Dennis Smith Jr., Dallas Mavericks
Smith is being handed the keys to drive a young Dallas team into the playoffs. Since he didn't fully live up to high expectations last year, I expect his leap this season to be a sizeable one. With reigning EuroLeague MVP, Luka Doncic, now on his team, and DeAndre Jordan around to catch his lobs, Smith's assist numbers should skyrocket. In the preseason, Dallas is experimenting with better spacing and a faster pace. The more possessions his team has, the more Smith's scoring opportunities and shooting percentage will increase.
PF John Collins, Atlanta Hawks
Collins will be the main man in Atlanta's front court. He improved greatly during the second half of last season in blocks, rebounds and scoring. His shooting percentage finished at 57.6, and his free-throw percentage was 71.5. Those rates are already good for a big man, but with the offseason work he's put in -- including trying to be more dangerous from 3-point-range -- I expect him to improve more. It looks like Collins will have a significant increase in playing time after averaging just 24.1 minutes per game, and with center Dewayne Dedmon sidelined by an ankle injury, Collins' blocks and rebounds might jump as well!
F Jayson Tatum, Boston Celtics
He had an incredible rookie season, but I expect Tatum to get even better. Many pundits are worried about now the returns of Kyrie Irving and Gordon Hayward will take touches away from Taytum. Maybe, but the Celtics aren't going to take any minutes away from Tatum. His fantasy stats were good as a rookie -- 13.9 points, 5.0 rebounds, 1.6 assists and 1.3 3-pointers -- but he has room to improve, especially after the Boston coaching staff showed an immense amount of trust in him during their playoff run. He looks like he could be a fine second- or third-round fantasy pick. 
G/F Ben Simmons, Philadelphia 76ers
Yes, Simmons was Rookie of the Year based on his impressive stats in virtually every category: 15.8 points, 8.1 rebounds, 8.2 assists, 1.7 steals, and 0.9 blocks per game. However, his average of 3.4 turnovers per game can definitely improve, and his free-throw shooting was a disastrous 56 percent. I expect him to take more shots this year, especially on drives to the basket. That should raise his shooting percentage, which was already at 54.5. In other words, he has the potential to rise to an All-Star level if he makes the kind of improvement that Steve Kerr mentioned from second-year players.
SG Donovan Mitchell, Utah Jazz
The runner-up in the 2017-18 Rookie of the Year voting, Mitchell has the potential to become the next Damian Lillard. Lillard was the 2012 Rookie of the Year thanks to outstanding average stats: 19.0 points, 3.1 rebounds, 6.5 assists, 2.3 3-pointers, 0.9 steals, 3.0 turnovers, 42.0 shooting percentage, 84.4 free-throw percentage. He was even better, the following year scoring more points, hitting more 3s and getting more steals. Let's compare his 2012 numbers with Mitchell's from last year: 20.5 points, 3.7 rebounds, 3.7 assists, 2.4 3-pointers, 1.5 steals, 2.7 turnovers, (43.7 shooting percentage, 80.5 free-throw percentage.
Even with those gaudy numbers, there's room for Mitchell to improve in assists, 3-pointers and steals.  Not to mention that Lillard cut down on his turnovers in his second season. I expect Mitchell to do the same.
Never miss ASL's latest fantasy sports news. Send us an email at This email address is being protected from spambots. You need JavaScript enabled to view it. and list the sports you are interested in (NFL, NBA, MLB, NHL, EPL) to start receiving ASL's newsletter.