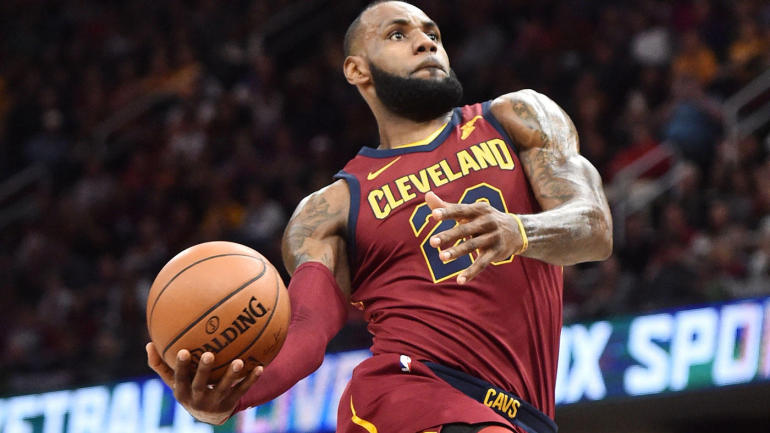 Written by John Adams
03 April 2018
It's OK to fool yourself and pretend that someone other than LeBron James should be the unanimous choice for MVP this year. You can drone on about James Harden, but you know the truth and so does everyone else.
 As of April 3, 2018:
– LeBron James leads the league with 2,111 points scored.
- LeBron James ranks No. 2 in the league with 703 assists.
- LeBron James ranks No. 2 in the league with 17 triple-doubles.
- LeBron James ranks No. 3 in the league with an average of 9.1 assists per night.
- LeBron James has not missed a SINGLE GAME THIS SEASON.
LeBron's complete dominance, year in and year out, for 15 straight seasons has blinded you and millions of others to the fact that at 33 years old, James is putting together perhaps one of the most impressive seasons of his storied career and he's doing it all by himself. That's right, and I'll say it again: LeBron James is doing it all by himself. Kevin Love missed 21 consecutive games, the Cavaliers completely revamped their lineup at the All-Star break, and LeBron James still has Cleveland eyeing the No. 3 seed in the East. He's played in 78 straight games and has only gotten better during the grind of a long NBA regular season.
There is NO question that Harden has put up numbers similar to James this season, but he has done it with a vastly superior supporting cast that boasts one the best players in the league with point guard Chris Paul. CP3 has been a beast all season long and statistically ranks as the ninth-best player in the league. On the defensive end of the ball, the Rockets have one of the best rebounders and shot-blockers in the league with center Clint Capela. Capela ranks second in league with 132 blocks and seventh in the league with 763 rebounds.
It's not Harden's fault that he has a top-notch lineup around him, but LeBron is taking Cleveland to the playoffs one triple-double at a time. James put the team on his back and has sustained them like no other player in the history of the league. He's done it with guts. He's done it with mind-boggling talent. He's done it with sheer brass. It's easy to understand why the public and MVP voters are ready to pass the torch to someone new, but bypassing LeBron James is turning a blind eye to one of the most impressive MVP campaigns by any player in NBA history.


Never miss ASL's latest fantasy sports news. Send us an email at This email address is being protected from spambots. You need JavaScript enabled to view it. and list the sports you are interested in (NFL, NBA, MLB, NHL, EPL) to start receiving ASL's newsletter.