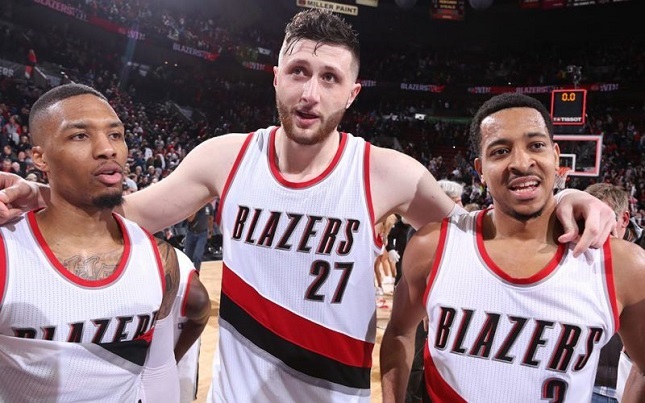 Written by John Adams
20 March 2018
Just over a month ago, the Portland Trail Blazers got roughed by the Utah Jazz, 115-96, and were struggling to hold onto sixth place in the NBA West with a 31-26 record. That was then, this is now. Since dropping that home game just before Valentine's Day, the Blazers have rattled off a highly improbably 13 straight wins against some of the best teams in the league.
Point guard Damian Lillard is the ringleader for Portland, averaging 28.8 points and 6.7 dimes per night during his last 10 games. He always ranks in the top five in the league at the charity stripe, averaging 9.2 points per game from the free-throw line. Next up for Portland is guard CJ McCollum, who's been averaging better 21 points per game, and center Jusuf Nurkic, who's averaging a double-double per game since the streak started. Those three players have propelled Portland into the No. 3 seed in the West.
Now comes the tough part. Portland has to hold off a semi-desperate Oklahoma City team for that No. 3 spot and will have to do so through its upcoming four-game minefield that starts Tuesday night  First, the Blazers host the dominating Houston Rockets and then get a visit from the Celtics on Friday night. Then Portland hits the road for matchups against the Thunder and the Pelicans.
If the Trail Blazers can win three of those next four, that should convince everyone that they a legitimate threat to any team in the Western Conference. Even if they spilt those four games, they have great playoff promise. But if they come out with a losing record or get swept, no one will remember this remarkable winning streak once the playoffs start next month.


Never miss ASL's latest fantasy sports news. Send us an email at This email address is being protected from spambots. You need JavaScript enabled to view it. and list the sports you are interested in (NFL, NBA, MLB, NHL, EPL) to start receiving ASL's newsletter.