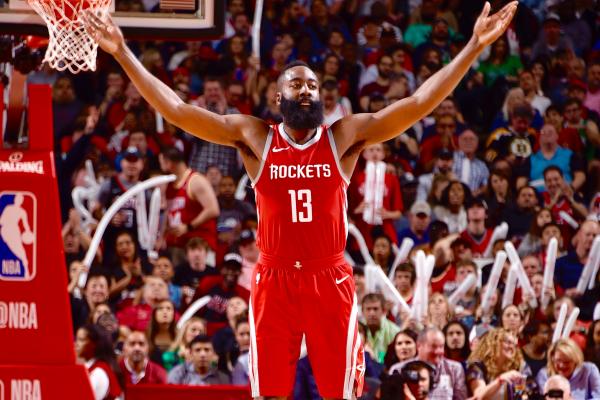 Written by John Adams
06 March 2018
More than half the sports writers in the country seem to be caught up with some type of Rockets "Red Fever." Most of them are declaring the Golden State Warriors as the underdog, while touting the Rockets as the next big thing. Shouldn't it be the other way around?
This is a condition that occurs when a team like the Rockets wins 15 straight games, but still only has a half game lead on the Golden State Warriors, a team that also happens to be the defending champs. Many people are desperate for a changing of the guard and they see the Houston Rockets as the team that can accomplish that feat. But to use a sports cliché, Houston is leaving it all on the floor.
There's no question that the team is hungry and they are going all out to win the Western Conference and claim the top seed. That is all well and good, but how much will the Rockets have left in the tank when the playoffs start next month. How much bounce will the team have mid way through May? The real question is, can they keep up this breakneck pace?
Yes, James Harden is likely going to be this year's MVP. At 32-years-old, Chris Paul seems to have the secret sauce to take help elevate Houston to the next level. Clint Capela is cleaning up the boards every time he takes the court. But each one of these players are logging 33-plus minutes per night and none of them are taking any days off.
I think Houston is pushing too hard while Golden State and Coach Steve Kerr are actually more focused on the big picture. The Dubs are playing patient basketball and are still having no trouble winning. Golden State had a slight hiccup coming into the All-Star Break, but they've been golden since that time, winning eight of their last ten games.
Kevin Durant is quietly averaging 26 points-per-game to go along with almost 2 blocks per night. Stephen Curry is cruising along scoring almost 27-points-per-game while Draymond Green leads the team in boards and assists. If you watch them play, they are taking it easy. The Dubs know the grind that comes with playing deep into the month of June and they are getting ready for another playoff push.
The Rockets are going nuts, trying to win not just every game, but every quarter. That's fine if your goal is to snag the top seed in the West, but I'm betting that going full tilt is NOT a formula that any team can sustain throughout the playoffs.
Never miss ASL's latest fantasy sports news. Send us an email at This email address is being protected from spambots. You need JavaScript enabled to view it. and list the sports you are interested in (NFL, NBA, MLB, NHL, EPL) to start receiving ASL's newsletter.