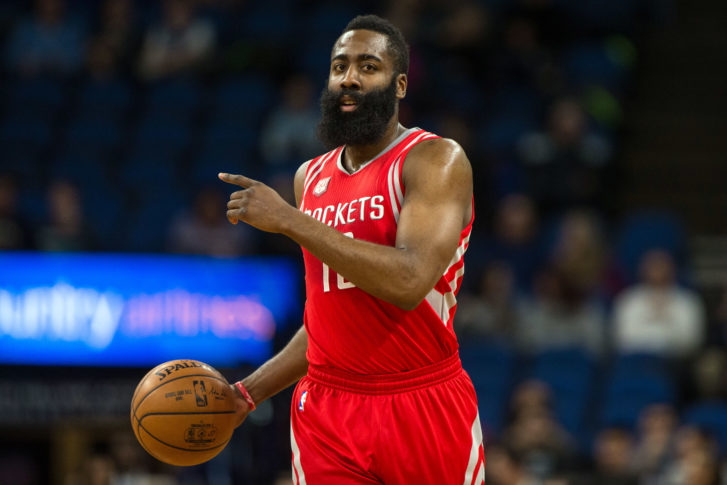 Written by John Adams
15 February 2018
It took a 10-game winning streak and a hiccup from Golden State, but the Houston Rockets took over the top spot in the West on Valentine's Day. Houston handed the hopeless Sacramento Kings their fifth loss in their last seven games and now own the best record in the NBA. The Rockets are playing with a massive chip on their collective shoulders, and this winning streak tells you all you need to know about their depth of talent.
Like most teams that dominate in the NBA, the Rockets' success comes from a three-headed monster approach. All season long, James Harden, Chris Paul and Clint Capela have been able to impose their will on opposing teams when they are on the floor together.
Harden has been unstoppable during his last 10 games, averaging 32.5 points, 8.8 assists and 1.6 steals per night while Paul is packing the stat sheet with 18.4 points, 6.7 dimes, 5 rebounds and 1.6 steals per night. Capela is averaging almost as many points as Paul while pulling down 12.5 rebounds per night and averaging more than 2.5 blocks per game. The Rockets are handling their business and actually seem to be getting better.
Meanwhile, Golden State hasn't won on the road since mid-January and look dead tired. It's hard to know if the Warriors have run out of gas or have just gotten complacent. But if they can't cure their midseason blues, they may be chasing the Rockets for the rest of the season. No team more than the Warriors needs the All-Star break in order to take a step back and refocus for the second half of the season. The Warriors have plenty of time to right the ship, but the Rockets have proven that they are a force to be reckoned with.

Never miss ASL's latest fantasy sports news. Send us an email at newsletter@advancedsportslogic.com and list the sports you are interested in (NFL, NBA, MLB, NHL, EPL) to start receiving ASL's newsletter.