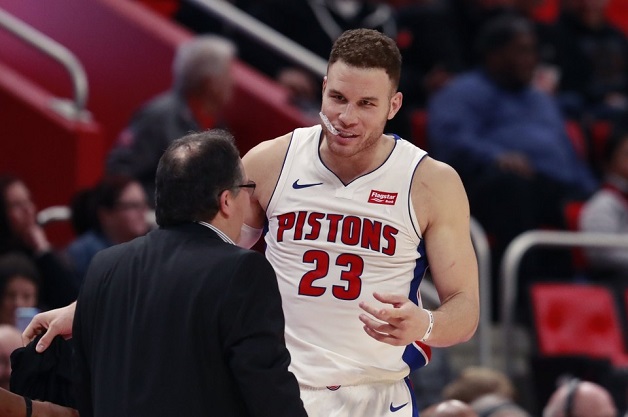 Written by John Adams
06 February 2018
The sample size is small, but the arrival of Blake Griffin is already starting to look like a Motor City Miracle in Michigan. A week ago, the Pistons were in a freefall. They had dropped eight of ten games and were falling out of the playoff picture altogether. Then a 6-foot-10, 250-pound guy rolled into Detroit in his souped-up Kia with a $140-million contract and suddenly the Pistons are riding a four-game win streak.
Griffin didn't take any time off, didn't unpack his bags. He just jumped right onto the court, and he and Andre Drummond started making music together. Both big men are packing the stat sheets, and the ho-hum Eastern Conference has been put on notice that there is a new kid on the block with his eyes of the playoffs. Even though Drummond rolled his ankle last night against Portland, the Pistons are firing on all cylinders.
Since trading in the L.A. sunshine for the bitter cold of Detroit, Griffin is averaging 20.3 points, 9.3 boards and 6 assists per game. It's actually strange to watch Griffin feed Drummond and Ish Smith because it looks like they've been playing together for years.
Even Pistons head coach Stan Van Gundy is finding it hard to believe that Griffin was able to adapt the first time he stepped onto the court: I'm actually surprised the way he came in," Gundy said Monday afternoon. "A guy who's been the face of a franchise in one place, I would've expected a longer adjustment period. But he came in with a great attitude and energy about him."
Detroit is now tied with the 76ers for the final playoff spot in the East and only five games behind the stumbling, third-place Cavaliers and the inconsistent, fourth-place Wizards. The sky is the limit for Detroit except for one crucial factor: the health of Blake Griffin. Griffin has been knocked out early in three straight seasons due to an array of serious injuries. However, for better or worse, he is a Detroit Piston through 2022 and is off to an amazing start.


Never miss ASL's latest fantasy sports news. Send us an email at newsletter@advancedsportslogic.com and list the sports you are interested in (NFL, NBA, MLB, NHL, EPL) to start receiving ASL's newsletter.