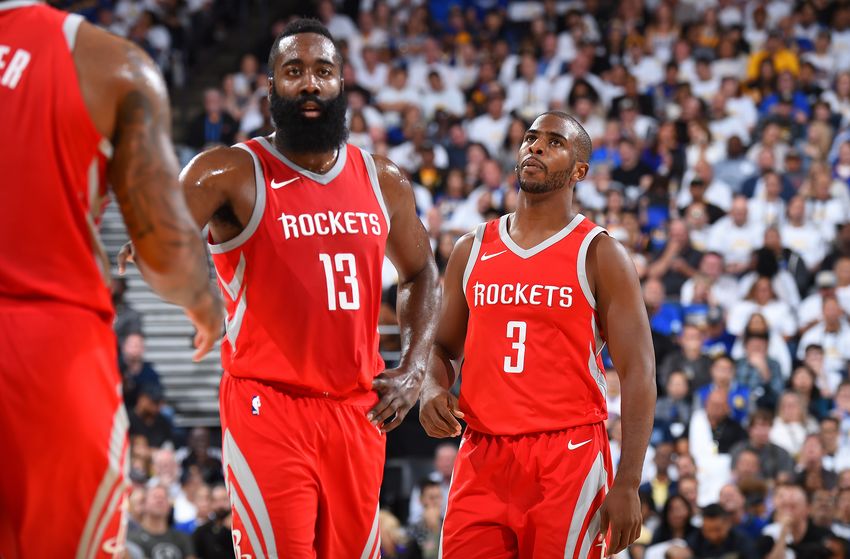 Written by John Adams
26 January 2018
The Houston Rockets make plenty of noise. We're the best! We're better than the Warriors! BLAH, BLAH, BLAH. The Rockets are obsessed with Golden State and that makes them exceptionally vulnerable to a slew of hungry and talented teams in the West. Houston is not even close to the best in West and losing sight of the Pelicans, Thunder and Timberwolves is a recipe for a Texas-sized disaster.
Don't get me wrong, the Rockets are a force to be reckoned with James Harden healthy again and Chris Paul running the floor. But instead of taking care of business and quietly solidifying their No. 2 position, they are talking smack and doing it in JANUARY! Houston center Clint Capela came right out and said, "We are better than them." This a clear case of a 23-year-old player with delusions of grandeur and a big mouth. To be clear, teams who play their best ball before the All-Star break are rarely the ones holding up the championship trophy when the smoke clears.
Even if you remove Golden State from the conversation, lightning could strike Houston in the playoffs courtesy of a team like the Thunder. Oklahoma City manhandled the Wizards on Thursday night behind a season-high 46 points from Russell Westbrook and a thundering defense. The Rockets and Thunder split their first two meetings of the season with Oklahoma taking the last contest on Christmas Day. Westbrook, Paul George and Carmelo Anthony scored a combined 75 points to send the Rockets back to Houston with their tails between their legs. If the Thunder managed to enter the playoffs with a home-court advantage over Houston, the Rockets would certainly have their work cut out for them.
Another headache for the forward-looking Rockets could come from New Orleans, who they play on Friday night. Like the Thunder, the Pelicans play a high-octane style of defense and have a pair of big men who can make life difficult for a team that is built to defend a small-ball rotation. Anthony Davis and DeMarcus Cousins have led New Orleans to seven wins in their last ten games. Davis averages 26.7 points, 10.5 boards and 2.1 blocks per game while Cousins is averaging 25.3 points, 12.7 rebounds and more than five assists per game. If Davis and Boogie can stay healthy, they could give Houston fits coming down the stretch.
And last but not least are the surprising Minnesota Timberwolves. This is another team in the West that might have the tools to shoot down the Rockets. The problem is that the T'Wolves run hot and cold. If they match up against Houston at the right time, Minnesota could pull a major upset, but that might have to wait for another season. The bottom line is that you have to take care of business in this league and it makes very little sense to put a bullseye on your back this early in the season. Houston is sorely mistaken if they think they can just waltz into the playoffs and skip straight to the championship game. 
Never miss ASL's latest fantasy sports news. Send us an email at newsletter@advancedsportslogic.com and list the sports you are interested in (NFL, NBA, MLB, NHL, EPL) to start receiving ASL's newsletter.