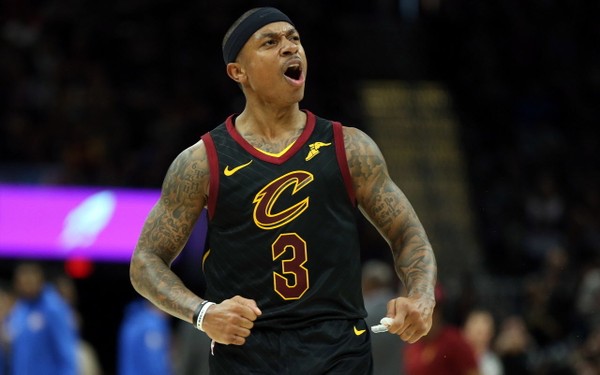 Written by John Adams
23 January 2018
A few weeks ago, it appeared that the Cleveland Cavaliers had a serious case of the January Blues. This is far from the first time we've seen the Cavaliers falter and sputter before and after the All-Star break, but this season has a much different and sour flavor to it. When Cleveland has stumbled in the past, they projected an "Us versus the world" mindset. This season is a different story because the Cavaliers are at each other's throats and should start their own soap opera called "As the Stomach Churns!"
Cleveland has dumped nine of their last 12 games including when they gave up a mind-numbing 148 points to the Oklahoma City Thunder on Saturday afternoon. This is not an example of the Cavaliers playing BAD defense; this is a team that is not really playing defense at all. Cleveland's lack of intensity on the defensive side of the ball is actually hard to watch. With the Cavs' lack of defensive effort, you could mistake them for one of those all-star games where neither side shows any interest in bothering to walk down the court and defend the opposing basket.
Looking for some additional game-time action? Make your own NBA prop bets here.
However, Cleveland's defensive woes aren't even the team's biggest problem right now. It's actually the better-call-your-momma locker room drama. The problems start at the top with LeBron James. The King is holding the organization hostage by playing cat and mouse with the front office and no one (maybe not even LeBron himself) has any idea whether or not he will return next season. This means that the team is afraid to make any changes or trades until LeBron makes his intentions clear.
The Cavs held a volatile closed-door team meeting this week where the finger-pointing began and the cracks in Cleveland's armor were on display for all to see. The meeting came about after several members of the team were irate with Kevin Love for leaving the blowout loss to the Thunder early due to an undisclosed illness. It's also no secret that Love doesn't seem to have much "love" for all the drama surrounding his teammates right now.
Another ongoing problem for the Cavs is that many of the players are speaking out against Isaiah Thomas. They complain that he is hogging the ball, missing shots and not playing any defense. This seems to be especially irritating for Dwyane Wade, who came to Cleveland in hopes of adding another ring to his resume.
And there's more. J.R. Smith is still in the starting lineup even though he's completely washed up and averaging less than eight points per game. And Tristan Thompson is a defensive doormat who is likely headed to the trading block. It appears that Thompson is more concerned with his Kardashian reality television career than trying to up his game.
Believe it or not, Cleveland can still right the ship. With LeBron James on your team, anything is still possible. But every day the infighting continues, the longer the odds become for Cleveland making it back to the NBA Finals. 


Never miss ASL's latest fantasy sports news. Send us an email at newsletter@advancedsportslogic.com and list the sports you are interested in (NFL, NBA, MLB, NHL, EPL) to start receiving ASL's newsletter.