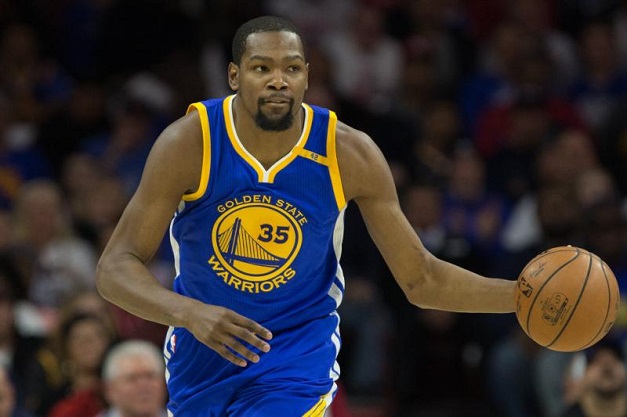 Written by John Adams
16 January 2018
The greatest single threat to the Golden State Warriors repeating this season may actually be boredom. After Golden State won another title last season, many teams went to work on beefing up their squads in the hopes of dethroning the reigning NBA champs or at least slowing them down a little bit.
But as we saw Monday night in Cleveland, the Warriors have no equal. No team is even close to competing against the two best players in the league. An inspired Cavaliers squad gave Golden State their best shot, but someone forgot to tell Kevin Durant and Stephen Curry, who combined for 55 points, 16 assists, 5 steals, 9 rebounds and outscored the Cavs 25-17 in the fourth quarter. Golden State is on cruise control and they are far from playing their best ball.
It's not like other teams across the league have given up. Cleveland landed Isaiah Thomas, the Celtics brought in Gordon Hayward, and the Rockets scooped up Chris Paul. Even the Oklahoma City Thunder constructed a three-headed attack to give the mighty Warriors something extra to think about. But all of these efforts seem to have fallen short as Golden State has the best record in the league and doesn't look like they have really started trying yet.
To makes matters worse for the teams for the West, James Harden is hurting, the Spurs are stagnant, and the Minnesota Timberwolves are the only team besides Golden State that is making any noise in the entire Western Conference. Minnesota is playing well enough, but the Warriors would devour the Wolves in the playoffs.
Many of the teams mentioned are actually better than they were last season, but the Warriors have registered 20 wins against only three losses since the start of December. And don't think for a minute that Warriors head coach Steve Kerr isn't thinking long term about the playoffs. Kerr is quick on the trigger any time he notices that Curry has a sniffle or an ankle tweak.
Curry and K.D. are not always in sync, but they have proven that they don't need to be to win again and again. And when one of them has the night off, the other one is always happy to step up and take charge. Unless one of them suffers a season-ending injury or dies of boredom, it seems almost impossible for another team to stop them in the playoffs.


Never miss ASL's latest fantasy sports news. Send us an email at newsletter@advancedsportslogic.com and list the sports you are interested in (NFL, NBA, MLB, NHL, EPL) to start receiving ASL's newsletter.