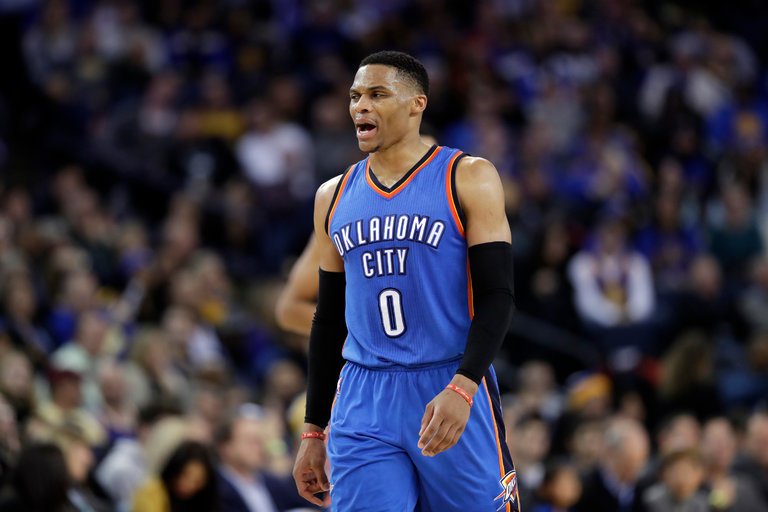 Written by John Adams
10 January 2018
After sputtering out of the gate to start the season, the new-look Oklahoma City Thunder seemed to put it all together during the month of December by winning 12 of 17 games. But after losing four of their last six and dropping into sixth place in the West, OKC's big three, Russell Westbrook, Paul George and Carmelo Anthony, aren't really scaring anybody. This is the team that was supposed to give the Warriors a run for their money, but losses to the Mavs, Suns and Blazers overshadow what should be a thunderous lineup.
Westbrook, who launched his new signature sneaker last week, has always been known as one the most fearsome and tireless competitors in all of sports. But to watch him and the Thunder play during the past two weeks, you can see that something is missing. The "Big 3" look flat and they look disinterested. The Thunder are overlooking the lower-tier teams and then getting beat down by them.
Oklahoma City players said they were looking forward to January and a softer schedule. Anthony said the team could exhale a little bit and "get our bodies right and get out mind right." The reality is that if the Thunder continue to play like this, Oklahoma City head coach Billy Donovan might lose his mind. With Westbrook on the floor, Donovan never had to worry about keeping his players locked in and focused. His newest challenge now is to motivate his three alpha players before they fall even further in the standings.
Perhaps OKC has taken a page out the Cleveland Cavaliers playbook: Take it easy during the regular season and turn it on for the playoffs. That might work, but Cleveland always kept themselves within the top three of playoff standings, NOT the bottom three. Right now, OKC is just a half game up on Denver and only one game up on New Orleans.
There is plenty of time for the Thunder to right the ship, but the Timberwolves are balling right now and look every bit as good as OKC. If Minnesota can snag the No. 4 seed in the West, that would make a deep playoff run even more difficult for a Thunder team that was predicted to challenge the Warriors.

Never miss ASL's latest fantasy sports news. Send us an email at newsletter@advancedsportslogic.com and list the sports you are interested in (NFL, NBA, MLB, NHL, EPL) to start receiving ASL's newsletter.