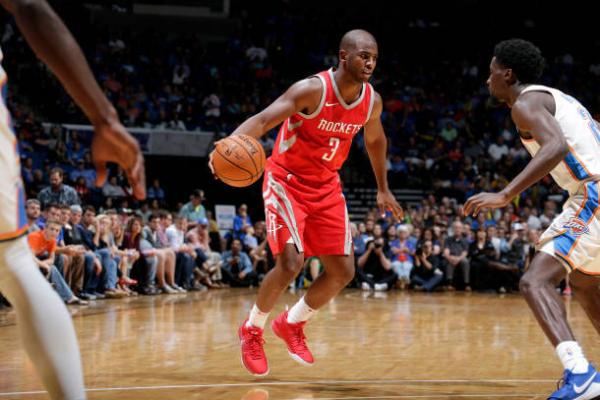 Written by John Adams
08 January 2018
When the Houston Rockets grabbed Chris Paul during the summer of 2017, they had two goals in mind. The first was to find a formidable force to play alongside James Harden. The second was to have someone in place in case Harden slowed down or went out with an injury.
Harden suffered a partial tear of his hamstring on New Year's Eve, knocking him out for at least two weeks and possibly much longer. The best-case scenario for Houston is that Harden returns before the end of January, but hamstring injuries never just fade away. Harden was averaging a staggering 32.3 points, 9.1 assists and five boards per game, but that production is gone, and it's up to CP3 to keep the Rockets relevant.
Chris Paul is no stranger to running the floor, but now he needs to take over games to keep Houston in the mix. CP3 is averaging more than 11 assists per game since Harden went out, but the Rockets have dropped two of three, and Paul is definitely feeling the pressure. He needs to be more selfish, he needs to finish and he needs to average around 25-plus points per night.
Even though the Rockets fell to the Golden State Warriors last week, Paul was the kind of player the Rockets need him to be while Harden is sidelined. He scored 28 points during that game to go along with seven rebounds and nine assists. If Paul can post those kinds of numbers, the Rockets should be fine. But ultimately, he must understand that he has to do more than run the floor. He has to be the closer. He has to be The Guy.
The good news for the Rockets is that they have a relatively soft schedule coming up, so if Paul does step up, he might be able to keep the Rockets among the top four in the West. Houston's closest competitors, San Antonio, Minnesota and Oklahoma City, are all struggling right now as each of those teams has dropped three of its last six games.
The bad news for Houston is that the Warriors have found their stride and are distancing themselves from the pack. Catching Golden State becomes more unlikely with each Houston loss.


Never miss ASL's latest fantasy sports news. Send us an email at newsletter@advancedsportslogic.com and list the sports you are interested in (NFL, NBA, MLB, NHL, EPL) to start receiving ASL's newsletter