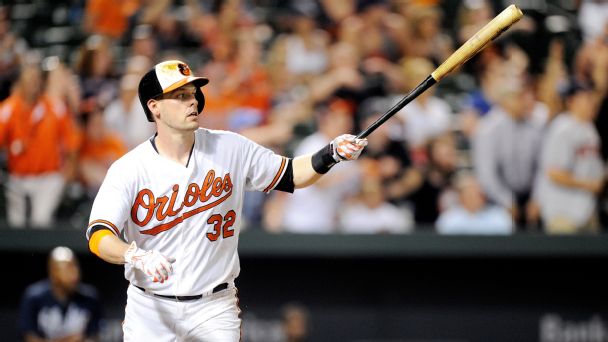 Written by Brian Murphy
05 February 2017
Dexter Fowler and Ian Desmond were the exceptional exceptions. Last year, those two were still available on the open market in February -- late February, actually -- and ended up being big bargains and important producers for their respective squads and have cashed in this winter with fat multi-year contracts. Again, that's the exception. But those players have shown that it is indeed possible to find a diamond in the rough this late in the offseason. Here are three players who are still looking for a home and could make solid contributions to your fantasy team.
Matt Wieters
Teams have reportedly shied away from Wieters because he's asking for too many years and dollars. That has to be the reason why he is a free agent at this juncture because a 30-year-old catcher who is still strong behind the plate and has easy 20-homer pop should be highly sought after. Defense obviously doesn't pay the bills in fantasy, but Wieters slammed 17 homers in 124 games at a position that is fairly thin last season. Of course, he has some huge question marks (Given his injury history, can he even make it through 124 games again? Will leaving Baltimore's hitter-friendly park hurt his numbers?). However, for someone who will be on the board around pick No. 200, Wieters could create a nice chunk of value, especially if he stays in the American League and can double as a DH.
Doug Fister
Just two seasons ago, Fister finished inside the top 10 of the Cy Young voting. He took a step back in 2016 with the Astros, thanks in large part to a walk rate (3.1 per nine) that was far out of line with his career norms. He will never pile up the strikeouts, which leaves him vulnerable to some truly ugly outings, but for the most part, Fister should be able to help you in the innings, ERA and WHIP categories. It's also a positive sign for his fantasy value that the Padres and Mariners are currently interested in the 33-year-old. Both of those teams play in cavernous stadiums, and landing with Seattle would also give Fister a better chance of picking up some extra wins. 
Mike Napoli
Napoli just wins wherever he goes. I guess that's true since he has made the playoffs in five of the past six seasons with Texas, Boston, Texas again and Cleveland. Three of those stints included World Series trips. Unfortunately, that kind of winning doesn't matter for hitters in fantasy, just stats. Napoli, more so than Wieters, needs to remain in the AL so he can DH. Yet, who cares about his lack of defensive flexibility when he can send out 34 homers as he did last season with the Indians. You know what you're going to get from Napoli: All-or-nothing swings, lots of strikeouts, low average and no speed. That's understood. But in early drafts, Napoli is being taken after pick No. 200. For all of his flaws, that's still too long for a potential 30-100 bopper to be left on the board. Given his penchant for no-doubt homers (he hit 15 last year, according to ESPN), you shouldn't worry if Napoli moves into a pitcher's park. The run production will remain.