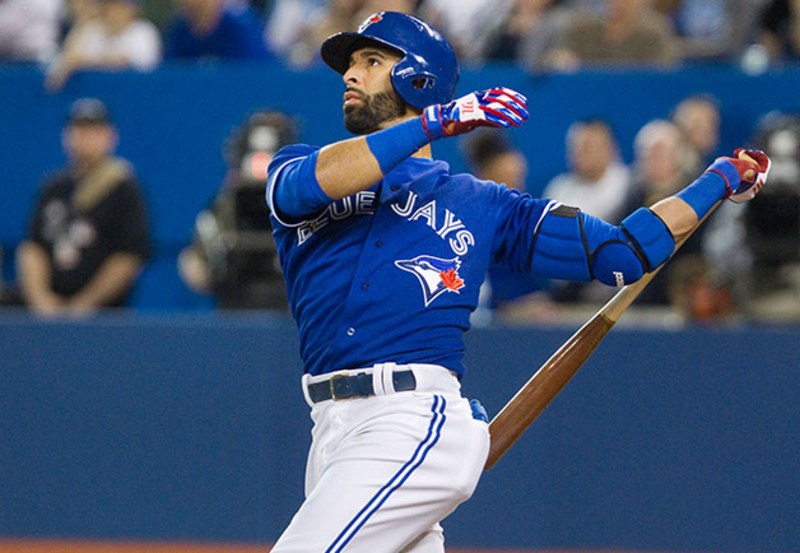 Written by Brian Murphy
19 January 2017
Last week, I mentioned that Jose Bautista would likely find himself in a new uniform this season. That was the general thought for much of the offseason, but so much for that. Bautista is back with the Blue Jays after signing a one-year, $18.5 million deal Tuesday and while it seemed for the longest time as if the Jays would have to move on without the franchise's second-most prolific home run hitter, they must be happy to have him back.
That's because once Edwin Encarnacion departed south for the Indians, the Blue Jays' once-fearsome lineup looked a little meek. Yes, Josh Donaldson wasn't going anywhere. And Troy Tulowitzki can still be dangerous when healthy (or so I think -- his short Toronto career has been lackluster). Otherwise, they are depending on Kevin Pillar, Devon Travis, Ezequiel Carrera, Justin Smoak, Steve Pearce, Melvin Upton Jr. and Russell Martin, who had an absolutely pathetic first half last season before getting hot during the summer months in order to finish with a still-ugly .231/.335/.398 slash line. 
I was concerned that lineup might not carry enough big sticks to keep pitchers from simply maneuvering around Donaldson whenever possible. Wouldn't you rather face Kendrys Morales than the 2015 AL MVP? However, Bautista's re-entry changes the equation for Toronto.
Not because he is going to smash 50 home runs again or even 40. That's probably too high of a bar as Bautista heads into his age-36 season. But he is still a serious longball threat. He hit 22 homers through an injury-plagued 2016 in which he was limited to 116 at-bats. He makes his hits count as he probably won't register a batting average above .250, but Bautista's on-base percentage was a very respectable .366 last season and he's logged better than .350 in that category seven years running.
The Blue Jays are getting (or rather keeping) a power source who gets on base at a healthy clip, lengthens Toronto's lineup and forces pitchers to go after Donaldson more often. Donaldson would have still been a first-round fantasy pick without Bautista, but the latter's presence does make me feel at least slightly more comfortable about investing so much into the Bringer of Rain.
What are fantasy owners getting in Bautista? A lot of the same, just to a lesser extent. Thirty-five-homer upside, not 50. A low batting average that is somewhat glossed over by a lot of walks and a solid OBP. A good amount of RBIs but probably also a drop in runs thanks to the uninspiring crew that sits behind him in the batting order. It all adds up to someone who is needed by the Blue Jays and rather run of the mill for the fantasy crowd. Plus, you have to be mindful of the injury factor. Bautista has missed at least 40 games in three of the past five seasons.
Joey Bats will be a Blue Jays legend, but all legends fade, and we should be squarely in his fade phase. Without a category in which he can really carry you at this point, Bautista looks like a third outfielder who could provide a decent profit if he gets some good luck on the health front.