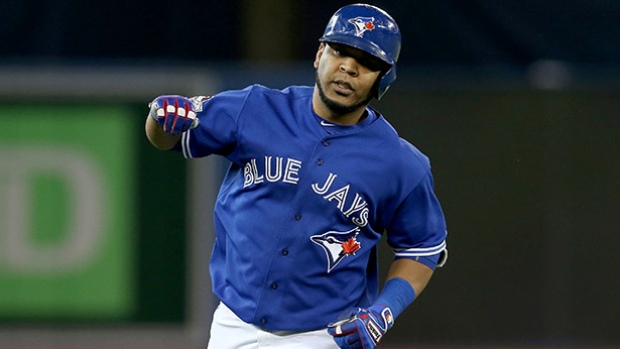 Written by Brian Murphy
07 January 2017
January represents a pretty quiet time across the MLB universe. Usually. This January, however, quite a few free agents remain up for grabs (Mark Trumbo, Jose Bautista, Matt Wieters, Mike Napoli, Tyson Ross, etc.). Plus, the possible trades of Brian Dozier, Jay Bruce and Jose Quintana, to name a few, add to the intrigue and almost ensure that there will be plenty to talk about in baseball as everyone tries to kill the time until pitchers and catchers report.
The biggest acquisition story of 2017 thus far is one that was all but done prior to Christmas but wasn't officially completed until Tuesday as Edwin Encarnacion signed a three-year, $60 million pact with the reigning American League champs, the Cleveland Indians. I'll be honest up front: I don't think this deal moves the needle a humongous amount on any player's fantasy value. That's not to say this deal doesn't carry impact. Conversely, this signing affects many players on a smaller scale.
The obvious starting point is the man in the middle of this news and now in the middle of Cleveland's lineup. Encarnacion, who turned 34 on Saturday, is under control through his age-36 season with a $20 million team option for 2020. He has compiled a 133 or better OPS+ in each of the past five seasons; Mike Trout is the only other active member of that club. Similarly, no current player has hit at least 34 homers in each of the past four seasons except for Encarnacion. And he has reached that mark in five straight years. But I'm probably just wasting your time since you already know that Encarnacion is a great power hitter. So, can he be even greater than he was in Toronto? My guess is no, but would you settle for more of the same?
Encarnacion's age is not a concern for me right now. A few players have cleared 35 HRs in their mid-30s recently. Heck, Nelson Cruz topped 40 in each of the past two seasons (his age-34 and age-35 campaigns) and did so while playing half of his games at Safeco Field. Speaking of ballparks, you might assume that Encarnacion's stats will dip outside of Rogers Centre. However, his new home, Progressive Field, had a greater park factor for runs and home runs (1.207 and 1.168) than the Blue Jays' park (1.156 and 1.010) last season, according to ESPN. Plus, no stadium can really hold Encarnacion, considering that he smashed 20 "no-doubt" homers last season, five more than No. 2 on the list, Trumbo.  
Fantasy owners will deal with the .260-.270 average Encarnacion brings home as long as he also brings home a ton of runners. Batting behind the likes of Bautista and Josh Donaldson gave him ample opportunities to do just that. Yet, it's not as if Cleveland is lacking at the top of its lineup. Carlos Santana, Francisco Lindor, Jason Kipnis and/or Michael Brantley can all post an on-base percentage of .350 or better. Brantley is the wild card as he has dealt with shoulder issues for more than a year now and was limited to just 11 games last season.
For those aforementioned hitters who will be in front of EE, their fantasy stocks get a nice bump. For all intents and purposes, Encarnacion is replacing Napoli as the Indians' designated hitter. Even though Napoli set a bunch of career highs in 2016, he still struck out at a 30.1 percent clip, the third-highest mark in baseball. Encarnacion's K rate increased a few percentage points last year, but it finished at a manageable 19.7. Fewer strikeouts (and nearly just as many walks) means more contact. And -- you can see where I'm going here -- more contact means more runners advanced or possibly driven home on hits, sacrifice flies or RBI groundouts. Those runs and runs batted in add up, and they all represent fantasy goodness. 
North of the border, it will be frankly impossible for the Jays to replace the production that Encarnacion and the likely soon-to-depart Bautista provided. Left in their wake to pick up the slack are Kendrys Morales and Steve Pearce. Of course, Donaldson and Troy Tulowitzki are still around, but I'd be a little worried about Donaldson, the best fantasy asset Toronto has to offer. Tulo has had a very rough go of it in the AL, but I'll admit that he can still be a threat. Maybe. But if he gets injured again and can't get up for even 120 games for the fifth time in eight seasons, why would opposing pitchers give Donaldson anything good to hit? Those newcomers shouldn't scare anyone to the point where pitchers feel like they have to give in to the 2015 American League MVP. Then you've got Devon Travis, Melvin Upton Jr., Kevin Pillar, Justin Smoak and/or 34-year-old Russell Martin. Those are some fine players, and it's not an insult to say that none of them are anywhere near as dangerous as Encarnacion or Bautista. Unless the Blue Jays add to their offense over the next couple of months, my fear with Donaldson, even though he should still be a high fantasy pick, is that he will be left on an island without anyone to support him. Toronto's offense definitely won't be as fearsome in 2017, and I think The "Bringer of Rain" could suffer the most, statistically.