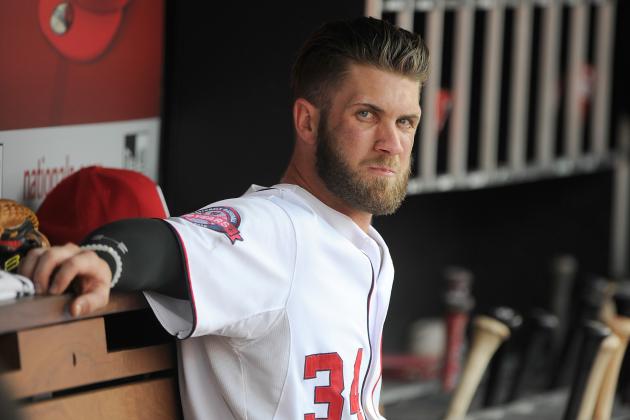 Written by Brian Murphy
09 August 2016
Bryce Harper is still a good player. Having to say that now, as a reassuring sentence, less than a year after he put up numbers that were stunning even for an uber-talented 23-year-old, is not something I thought I'd have to say back in April. That's when Harper was crushing the ball. He sent nine balls out of the yard that month. He has 11 home runs since then.
In April, he posted an 1.121 OPS, very similar to his 1.109 from 2015. His OPS plummeted to .621 for July and .544 in August through this past Saturday.
However, Harper is still only one of five MLB players with at least 20 home runs and 15 steals. He still has light-tower power. He still draws walks often. He has almost doubled his stolen base output from 2014 and 2015 combined already. He is still a good player.
So what's gone wrong? Well, a lot. It takes a lot to drag down such a talent, and there's a lot to point to in Harper's downfall. His batting average on balls in play (BABIP) was north of .300 in each of his first four seasons, all the way up to .369 in 2015. This year, through August 6, that mark is at .237.
Harper's batted ball velocity has trailed off by about 2 mph from last season, and his hard-hit percentage, which was at 37.9 percent in April, hasn't topped 33.5 percent since. That lack of hard contact can be found in Harper's batted ball results. His ground ball rate, at 33.8 percent in April, sat between 42 and 44 percent from May through July. Only 2.5 percent of his batted balls were infield popups in April. Then that rate skyrocketed to 12.5 percent or greater in each of the next three months. Harper's strikeout rate for the campaign is actually down overall from 2015, but it's been rising lately, perhaps due to just frustration setting in.
That's the long-winded way of saying, yeah, it's been a real struggle for the MVP since the opening month. So is there any reason to believe this good player can meet his past standards of greatness over the final six weeks? If nothing else, you would expect that BABIP to even out. Maybe Harper will just have bad luck for the rest of the season, but you would assume that number would come back to the mean at least a little bit.
But otherwise, a successful final couple of weeks will come down to Harper making small changes to his swing. There's a little too much loft in it right now, which is leading to more contact that is away from the dead-center barrel of the bat. But perhaps he can't make those changes because (dun dun dun) he's hiding an injury. Harper was sidelined Sunday because of a sore neck and was nagged by a balky knee in May and June. Is he hurting more than we know? It's entirely possible. In that case, a statistical change for the better probably isn't coming, and fantasy MLB owners will just have to deal with it.
Bryce Harper hasn't been a bust. He's just been more mortal. And because he's Bryce Harper, there's nothing that says he can't turn into a juggernaut in these late-season months. The unfortunate thing is that, other than his BABIP, there's also nothing that says Harper WILL improve down the stretch. You may have to put up with maybe 25 home runs and 20 steals from him with about 80 runs, 80 RBIs and a sub-.250 batting average. That's not what you signed up for when you drafted Harper in March. But it's still pretty damn good.