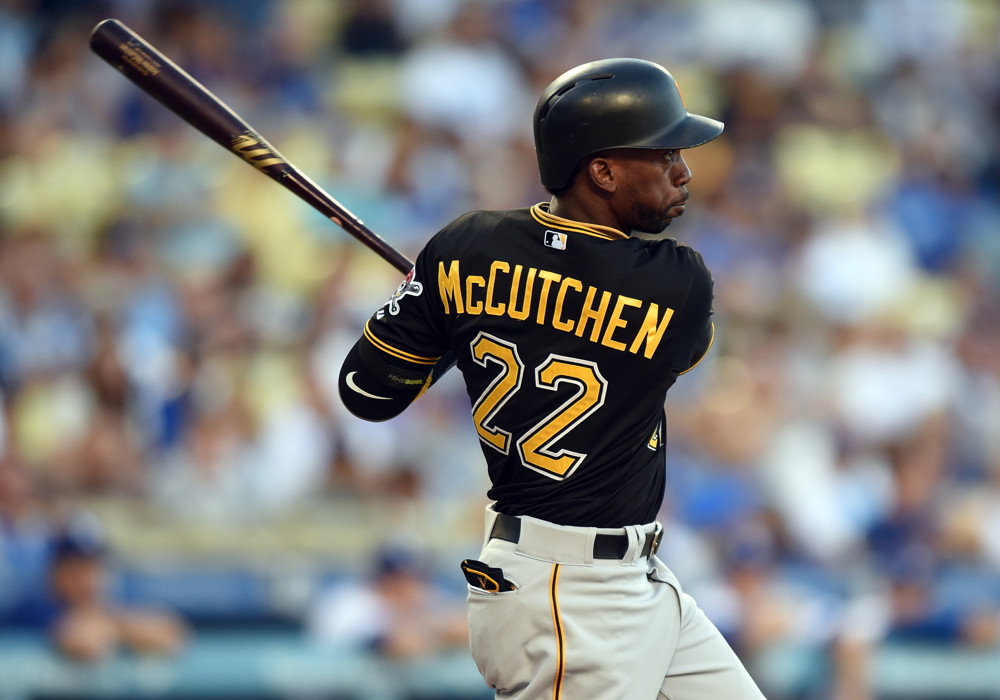 Written by Brian Murphy
26 July 2016
Many fantasy MLB leagues won't be facing their own trade deadline for another few weeks or so, but with Major League Baseball's non-waiver trade period ending Aug. 1, it only feels right that we talk trade. We look at recent baseball news to find players who you should be looking to either buy or sell as we near the season's home stretch.
BUY
J.D. Martinez, OF, DET 
If your team has had a productive first half and is cruising into the playoffs, feel free to take some calculated risks on players who are currently injured but could put you over the top in September and October. I've listed Martinez here and while he is someone you should want to go after -- he is scheduled to return from his fractured elbow in a couple of weeks -- the Tigers' outfielder is one of many players currently ailing players I would have my eye on. That list includes Matt Carpenter, Zack Greinke, Craig Kimbrel, Tyson Ross, etc. You might be able to get someone such as Shin-Soo Choo or Taijuan Walker very cheaply. Trading for these types of players at a discount (hopefully) is one of my favorite tactics for setting up my roster for a championship run. You don't see Clayton Kershaw or Michael Brantley here because I am concerned that they could be debilitated for the rest of the season.
Andrew McCutchen, OF, PIT
McCutchen is ailing as well, having dealt with a right hand issue that's bothered him basically since spring training. It has shown in his numbers, which are down across the board. He hasn't just been disappointing; he's been bad. He has a below-average OPS+. His B-Ref WAR is -0.4. He is striking out more than ever while walking less than ever. His soft contact rate is up nearly 60 percent from last season. Yep, bad. And yet, I still find myself wanting him. That hand injury probably isn't going to go away, but I just have a hard time believing that McCutchen can actually be so terrible for an entire year. I'm sure some Cutch owners are sick of dealing with his rather empty box scores and could be looking to sell low. Why not attempt to take advantage? I wish I had more to go on here than just a gut feeling, but all of the numbers are against a turnaround. I just look at his track record and talent and think he will have a strong finish.
Dallas Keuchel, SP, HOU
After a rocky first half, Keuchel has begun to turn things around in July. Through Monday, he's allowed nine earned runs over his last 33 innings (five starts), and with an xFIP that was more than a run lower than his current ERA entering the day, we can reasonably assume that even better things lie ahead for Keuchel. It would have been optimal to deal for Dallas a couple of weeks ago, but perhaps it's not too late. 
SELL
Rich Hill, SP, OAK
Hill has been awesome on the mound this season. But he hasn't been on it much since the end of May. He missed all of the following month due to a groin strain and has been bothered by a blister since the All-Star break. A popular name on MLB's trade block, Hill is expected to pitch again soon. His owners should hope for a solid outing at that point and then look to bail. He has a long injury history and hasn't surpassed 103 innings pitched since 2007. Hill is already at 76 frames for 2016, and these recent ailments send a warning of just how fragile he is. Promote his 2.25 ERA, 1.09 WHIP and 10.66 strikeouts per nine average to the hilt and see what you can get in return for the 36-year-old.
Jay Bruce, OF, CIN
Bruce is having the best season of his nine-year career. He has been too good to stay on a rebuilding Reds team, especially with so many other squads looking for outfield help. It is very likely that he will be dealt some time before Monday's deadline, and that's where his fantasy value may suffer. Some of his top suitors are reported to be the Dodgers, Giants and Nationals, all of which play their home games in much less homer-friendly stadiums than Cincinnati's Great American Ball Park. That's a bit worrisome for Bruce, who has hit 14 of his 21 homers this year at GABP. Now, these fears may be allayed if Bruce lands in Cleveland, as has been rumored as well. Again, many fantasy leagues have some time before their own trade deadlines come to pass. A trade out to the West Coast, however, would probably stunt Bruce's power stats.
(Postscript: Bruce hit two home runs Monday night and they just so happened to come in San Francisco. Everyone knows his power is legit, but it was nice to see him not have any problems clearing the fences of baseball's foremost homer-suppressing stadium)
Jean Segura, SS, ARI
Who would have thought that Segura would be a top-40 fantasy hitter at this juncture? He is having a career year in the wake of a couple of down years, and now is the time for owners to cash in. Perhaps Segura will keep this going -- he is hitting .316 with a .814 OPS, although he has never topped .300 or .800, respectively, during his time in the majors -- but I would advise people to take advantage of the value Segura has created and swap him for a more proven player with a higher ceiling.