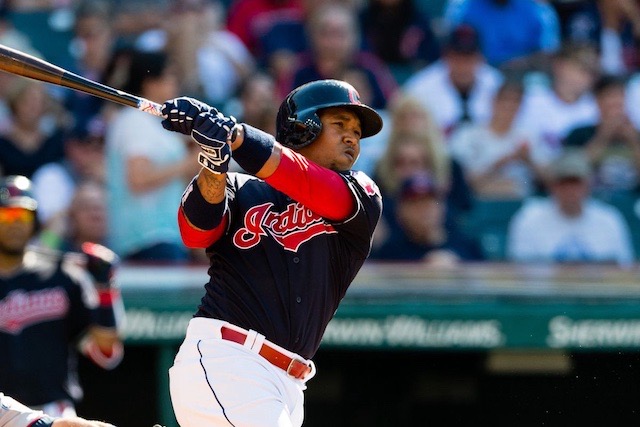 Written by Joe Buttgereit
23 January 2019
Just like in any other league of any sport, knowing your league rules is crucial. Is it a points league? Roto? Long or short bench? Many things need to be taken into consideration when drafting your fantasy baseball team. Get your studs in the early rounds; then I always like to focus on guys with multiple position eligibility in later rounds. There's a lot of injuries over the course of 162 games; being able to plug consistent contributors into multiple lineup slots is essential.
 Build the best lineups with the power of The Machine for Daily Fantasy Sports
Then there's the magic question: when should you start taking pitchers? Honestly, it really depends who it is. I'm of the mindset that it's much easier to find contributing pitchers later in drafts than position players. There're obviously the superstars but, in baseball, every year there's plenty of lesser known guys that will make an impact in a team's rotation throughout the season. Also, similar to streaming kickers/defenses in fantasy football, it's very common to see owners stream pitchers by picking up guys just for a specific start or two.
All in all, in the first few rounds, I want to take the best player on the board regardless of position. Worry about filling out positional needs once you reach rounds 8-10. Do your research. There are a lot of names to be familiar with, so follow along with my positional analysis in the coming weeks! Here's the five guys I'm specifically targeting in round one!
OF Mike Trout (Angels)
This one's obvious, right? Yes, but let me tell you why. Trout has been one of the most consistent and dominant players we've seen in a very long time; maybe ever. In seven full seasons, he's finished in the top-2 in MVP voting six times, winning twice. The "disappointing" season in which he wasn't MVP or runner-up, he finished fourth. The ultimate five-tool player is #1 on my board, and there's a distant gap between him and the rest of the field. His 162-game averages are astonishing: .307 average, 121 runs, 34 doubles, 37 home runs, 99 RBI, and 24 stolen bases. He routinely draws over 100 walks, landing him in the top-5 in on-base percentage every year, as well. He's the best player in the game, and if you have an opportunity to select him, it's a no-brainer.
2B/3B Jose Ramirez (Indians)
The only player to finish in the top-3 in AL MVP voting the past two seasons is Jose Ramirez. He and Francisco Lindor have become as dynamic a duo as anyone in baseball. The difference to me between the two in positional eligibility. The second base position is very thin, and Ramirez can slot into that role, as well as third base. This is a big season for him as pitchers began to pitch him differently in 2018. The offensive threat was there; and he had to learn to become more selective leading to a career-high 120 walks, more than double his previous high. It led to a dip in average, down to .270, but he still managed to hit 39 home runs (and 38 doubles) and drive in 105 runs. He's right in the middle of a very potent Indians lineup which should lead to a lot of run production; it also doesn't hurt that he routinely puts wood on the ball (just 80 strikeouts in 698 plate appearances).
SP Max Scherzer (Nationals)
Can you sense a theme here? Consistency. I'm generally in the "no pitchers in the first round" group; however, if you can get a guy that has made at least 30 starts in every season he's played and finished top-5 in the Cy Young voting in each of the past 6 seasons in the middle of the first round, I'm taking him. Max Scherzer has been the best pitcher in baseball for the past few seasons. Since 2014, he has averaged 662.6 fantasy points per season, 43 points ahead of the next closest pitcher, Corey Kluber. Scherzer's fastball has become one of the most devastating pitches in baseball, and he is certainly worthy of a first round selection in your draft.
1B Paul Goldschmidt (Cardinals)
Before I get into this one, let me say that the first base position is exceptionally deep this season. However, I've made it clear in this post that I value guys that contribute in all five categories; which includes the always-forgotten stolen base category. If I told you there was a first basemen that has hit at least 33 home runs in four of the past six seasons, and finished with the most stolen bases among the position in three of the past four years, would you target that person? I would. Paul Goldschmidt has been the most consistently all-around productive player at the position for the past five seasons. Generally, when you're talking first basemen, it's high power, low average. Not with Goldy. A career .297 hitter that averages 31 home runs and 105 RBI over the course of a 162-game season. Placed in the middle of what will be a deep Cardinals' lineup, Goldschmidt is in store for another extraordinarily productive season.
SP Chris Sale (Red Sox)
There are only two pitchers I'd entertain using a first round pick on; the first was Max Scherzer and the second is Chris Sale. The caveat here is Sale is mostly a late, wraparound 1.12, 2.1 choice. The numbers don't lie. He has been as dominant as anyone in the league over the past five seasons. He has led the league in strikeouts in two of the past four seasons, while maintaining a sub-3.00 ERA in the offensive-minded AL East. In 2018, he was perhaps on track to earn his first Cy Young award after posting a 2.11 ERA with 237 punchouts in 158 innings before missing roughly eight starts due to injury down the stretch. After coming back and playing an essential role in Boston's run to a World Series title, there's no reason to doubt that he won't come back healthy and ready to dominate in 2019.
Baseball is about to be in full-swing! For updates and stat nuggets, follow me on Twitter @joebuttgereit